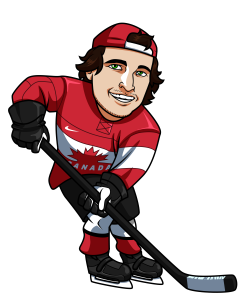 The 2015 NHL Awards are going to be handed out in Las Vegas tomorrow night.  The Hart, Norris, Selke, and more were voted on at the end of the season and now we get to find out which players will be going down in NHL history.
Hart Memorial Trophy
Carey Price 1.05
Alex Ovechkin 6.00
John Tavares
This will be going to Price.  There's a very outside shot of Ovechkin getting it, but Tavares won't be winning.
Vezina Trophy
Carey Price 1.01
Pekka Rinne 7.50
Devan Dubnyk 12.00
Price will be taking down the Vezina.  This is basically a sure thing.
James Norris Memorial Trophy
Erik Karlsson 1.25
PK Subban 3.75
Drew Doughty 7.00
I think this trophy has to go to Karlsson.  He has the best offensive numbers of the defensemen and was a big reason the Sens made it to the playoffs.  The voters who want to vote for the "best defenseman not most offensive defenseman" may have taken Doughty, but the Kings didn't even make the playoffs.  If Doughty takes it down it will be a travesty.  Karlsson should be winning his second here.
Lady Byng Memorial Trophy
Anze Kopitar 1.45
Pavel Datsyuk 3.15
Jiri Hudler 5.00
Here is one of the stupid trophies, where the voters don't look at the current season, but instead the players reputation.  Datsyuk only played 63 games so I don't think he should win it.  Kopitar didn't have one of his best seasons and wasn't even good enough to get the defending champs into the playoffs.  Hudler is actually a great choice for this trophy, but the chances are he won't win it because he doesn't have the reputation of the other two.
Frank J. Selke Trophy
Patrice Bergeron 1.41
Jonathan Toews 3.00
Anze Kopitar 6.00
The voting for this trophy is ridiculous.   Bergeron was a +2 and Kopitar was a -2, and neither players team made the playoffs.  How were they the best defensive forwards in the league if they couldn't even get their very talented teams into the playoffs.  Not good enough.  Out of these three I think Toews makes the most sense, but again, just based on these three being nominated who knows what the voters are thinking.
Jack Adams Award
Bob Hartley 1.18
Alain Vigneault 5.00
Peter Laviolette 6.00
Another weird trophy for the top coach in the league.  It basically means which coach did well with a bad roster.  So Vigneault is out.  Hartley is definitely the choice here as the Flames were projected to finish in second last in the league this season.
Ted Lindsay Award
Carey Price 1.29
Alex Ovechkin 3.50
Jamie Benn 7.00
It's nice to see Benn is respected by his peers.  The NHLers didn't feel like they had to include Crosby on this list.  I still think Price wins, but I think Ovechkin has a chance based on his reputation among the players in the NHL.
There are my thoughts.  You can probably tell I'm not a big fan of certain awards.
Tagged With : NHL Awards • NHL Trophy