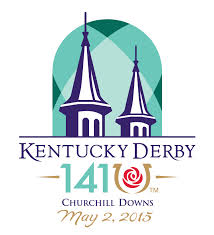 The 2015 Kentucky Derby is only a week and a half away, so it's time to start thinking about which horses have a good chance at winning the biggest horse race of the year.
The Road to the Kentucky Derby races are all in the books so we already have a good idea of which horses will be participating at the Derby and which ones are in form with the best chance at taking down the race.
Here's a look at the odds for the Derby:
Kentucky Derby Odds (As of April 22nd, 2015)
These odds are in fractional format (check out our odds page to learn more about how to read this type of odds)
American Pharoah 9/4
Dortmund 5/1
Carpe Diem 5/1
Mubtaahij 12/1
Materiality 14/1
International Star 18/1
Firing Line 18/1
Frosted 18/1
Upstart 18/1
As you can see American Pharoah is already a big favourite heading into this race, with Dortmund and Carpe Diem also being given a fairly good shot at winning.  Let's look at these three favourites in more detail.
American Pharoah 9/4
American Pharoah has won 4 straight races dating back to early September of last year.  They have only ran American Pharoah twice this year and he won them easily.  Both were at Oakland Lawn Park.  Neither field included any of the other top horses listed above, so it's hard to tell how American Pharoah will compare to these other top quality horses.  In her last race he ran the 1 1/8m in 1:48.52.  It could be interesting to see how he runs the 1 1/4 m at the Derby.
Dortmund 5/1
Dortmund has also been destroying the competition.  He has 6 races since November of last year and he's won each one.  The raced 1 1/8 m at the start of April and finished with the time of 1:48.73.  This slightly slower time than American Pharaoh is likely the reason this undefeated horse isn't the top horse heading into Churchill Downs.  It's also good to note that Dortmund beat Firing Line (18/1) in two of these races, so he is able to beat other fast horses head to head.
Carpe Diem 5/1
Carpe Diem at 5/1 is another interesting horse.  He's run 5 races so far and won 4 of them.  He lost to Texas Red last November, but he's won his two races in 2015.  That said, his 1 1/8 m time of 1:49.77 is quite a bit slower than the other two favourites heading into the Derby.  I don't have the same kind of confidence in this horse.
My favourite horse for betting on the 2015 Kentucky Derby at this moment would be Dortmund at 5/1.  I just feel like he's been in more races and faced more difficult opposition, which should serve him well at Churchill Downs in a week and a half.
Tagged With : American Pharoah • Carpe Diem • Dortmund • Kentucky Derby