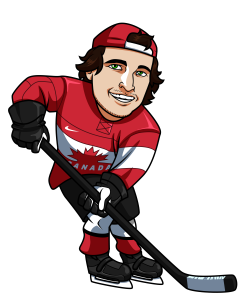 Every year I enjoy adding my division winner picks for the NHL at the beginning of the season.  Last year I didn't get a post up, but the for the 14-15 season I went 1-3 with my picks, but that was still enough to secure a small profit thanks to the Blues coming in at 4.01 odds to win the division.
This year, I'll be using odds from any of our top rated sportsbooks for Canadians.
It's important to note that my picks below are based on the odds and not necessarily who I think has the best chance of winning the division.  These are value picks that are meant to secure a profit over time.
Atlantic Division
Tampa Bay Lightning 2.33
Florida Panthers 5.19
Montreal Canadiens 8.00
Boston Bruins 8.00
Detroit Red Wings 12.00
Buffalo Sabres 17.00
Toronto Maple Leafs 19.00
Ottawa Senators 21.00
The Lightning are definitely the best team on paper in the division and the most likely to win the Atlantic this year.  That said, at odds of just 2.33 I don't see a lot of value taking the Lightning here.  A lot can happen over the course of the season and you rarely see the team you expect atop the division at the end of the year.  For this reason, I see a ton more value in the Florida Panthers.  The Panthers won the division last year with 103 points compared to 97 for the Lightning and the young Panthers should only get better this year.  Yes, the Huberdeau injury does hurt this team early in the season, but with guys like Barkov, Trocheck, Huberdeau, Bjugstad and Ekblad each having another year under their belts, to go along with the experience of Jaromir Jagr, Roberto Luongo and very solid new defensive additions in Keith Yandle and Jason Demers you have to like the chances of the Panthers to repeat as division winners this year.
Play: Florida Panthers 5.19 @ SportsInteraction.com
Metropolitan Division
Pittsburgh Penguins 2.90
Washington Capitals 2.95
New York Rangers 8.50
New York Islanders 8.50
Philadelphia Flyers 14.00
Carolina Hurricanes 18.00
New Jersey Devils 18.00
Columbus Blue Jackets 26.00
The Washington Capitals absolutely destroyed the regular season last year putting up 120 points to lead the league.  I don't see them taking their foot off the gas this year at all.  Ovechkin is always a big time performer in the regular season and if Kuznetsov continues to improve his game the Caps have the best 1-2 combo at center in the entire league.  Add in Braden Holtby between the pipes and Trotz behind the bench and you know this team will also be very tough to score on.  Especially now that Crosby won't be starting the season with the Penguins due to a concussion he received in practice, I think the smart money has to be on the Capitals to repeat as division winners.
Play: Washington Capitals 2.95 @ Bodog.eu
Central Division
Chicago Blackhawks 4.10
Nashville Predators 4.50
St. Louis Blues 4.30
Dallas Stars 4.30
Minnesota Wild 10.00
Winnipeg Jets 17.00
Colorado Avalanche 17.00
As you can see from the odds this division is really up for grabs.  The Stars finished atop the division last year with 109 points, while the Blues were right behind them with 107.  The Blues did lose David Backes in the offseason, but I don't think he makes that big of a difference for this team.  When I look at the Blues my focus shifts immediately to their back end that features Pietrangelo, Bouwmeester, Shattenkirk and Parayko.  This is one of the best top 4 in the league on defense and then you add in their tremendous depth up front with Tarasenko, Stastny, Steen, Perron, Fabbri, Berglund, etc, and you can see that this team will have no trouble putting the puck in the net and big injuries should not derail their chances.  The biggest question mark is in net, where Jake Allen will take over as the starting goaltender, but the team defense I think will be enough to keep the puck out.
The Stars are the other team I was looking at, but the fact that they rely so heavily on Seguin and Benn makes me nervous to take them.  I also don't think their defence is really that sound, which also gives me pause.
Play: St. Louis Blues 4.30 @ SportsInteraction.com
Pacific Division
Anaheim Ducks 3.60
San Jose Sharks 3.60
LA Kings 3.75
Edmonton Oilers 10.00
Calgary Flames 11.00
Vancouver Canucks 26.00
Arizona Coyotes 19.00
The Kings did come within one point of beating out Anaheim for the division win last year, but I just don't see this LA team as that strong anymore.  They have two solid defensemen, an overrated goaltender and a lot of again players up front.  For me this is a two horse race between the Ducks and Sharks, and I'm leaning significantly towards the Ducks repeating.  If you remember last year Anaheim got off to a horrible start, but turned things around in the second half of the season and went on a tear in order to win the division.  I expect them to come out of the gate much faster this year and then never look back.  The Ducks are a very deep team with a lot of speed in their lineup and that will result in them continuing to put up wins this year.  I think adding Antoine Vermette was a great move to slot him in behind Getzlaf and Perry as the teams third line center.  He kills penalties and can play an up tempo game, which should fit with the Ducks well.  The Ducks core is getting older and if they want to get another Cup, they need to do so soon.
Play: Anaheim Ducks 3.60 @ Bet365.com
I'll have plenty of NHL picks added throughout the season, so be sure to bookmark this page for daily picks.
Tagged With : NHL Betting • NHL Division Winners • NHL futures • NHL Picks