How To Bet On The Masters in Canada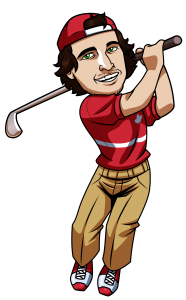 The most prestigious golf tournament of the year is finally here and with it comes the real core of the PGA season.  Jordan Spieth is the defending champion here at Augusta National and it was here that he really broke into the main stream media with his Masters win and from there he continued to have one of the best PGA seasons in recent memory.  Jordan hasn't been putting quite as well this season, but his game tee to green game has still been strong and if he can find that putting rhythm that made him so untouchable last season he's a great pick to repeat as Masters Champions.
Some other big names in the field who will be looking to take the title from Spieth include Jason Day, who has found his game once again, winning a couple tournaments in a row leading into The Masters and Bubba Watson, who has won the event in 2 of the past four years.  Other big names who will be looking for their first major include Dustin Johnson and Rickie Fowler, each of who have been playing some decent golf.
The Masters always brings out new online sports bettors so this year I wanted to create a guide for Canadians looking to place their first online bets on the 2016 Masters tournament.  I've broken down the step by step guide to setting up and online betting account and placing your Masters bets below.
Bet On The Masters In Canada – Step By Step Guide
#1 Open An Online Betting Account
The first thing you will need to do is open an online betting account.  I recommend SportsInteraction.com, our top rated sportsbook for Canadians.  They are currently offering a 100% up to $125 welcome bonus for all new Canadian sign ups.  Here's a full review.
Click here to visit SportsInteraction.com.
| | Sportsbook | Bonus | Review | Visit |
| --- | --- | --- | --- | --- |
| 1 | | 100% up to $200 | Review | Visit |
#2 Deposit
Now that you've opened your account you'll have to make a deposit in order to have some money online with which to wager.  I always suggest depositing at least $125 so that you take full advantage of the bonus offered by Sports Interaction.  You can read more about the bonus conditions on the SIA review page.
If you need more information about how to place a deposit at Sports Interaction check out our deposit options page.
#3 Place Your Bets on The Masters
Now that you have money in your account you're ready to bet on The Masters.  Sports Interaction has several betting options available for the tournament, but the most common golfing wager is always the tournament winner outright.  Here are the odds for the tournament (showing the favourites):
As you can see, Jason Day is currently the favourite to win the tournament at Sports Interaction, with the defending Champion, Jordan Spieth slotted in as the second favourite.  You then have arguably the best golfer in the world in Rory McIlroy and a Masters expert in Bubba Watson, who has won the tournament twice in the past four years.
Sports Interaction also has several other bets that you can make on The Masters including Group Betting, which involves you picking the top finishing golfer out of a group of five, and also a wide variety of head to head options.  Here's a look at the group odds for the five favourites:
On top of the head to head and group options, Sports Interaction also has several larger groups classified by country, such as the top American or top European in the tournament.  You can also wager on top 10 finishes for each player, whether they will make the cut, the round one leader and much more.
You can find all of these bets in the SportsInteraction.com sportsbook by clicking on 'Golf' -> US Masters.
That's it!  You should be ready to bet!  Click here to visit SportsInteraction.com.
***I should also let you guys know that DraftKings.com is running a free $5000 contest for the tournament.  I've added a post here that you can check out for all the details.