2018 World Junior Finals – Canada vs Sweden – Betting Odds and Pick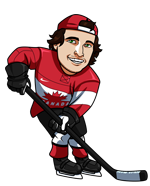 Team Canada went about their business last night beating the Czech Republic 7-2 to book their seat in the World Junior Finals against the impressive Swedish team that took out the pre-tournament favourite Team USA 4-2 in the semi's in the afternoon.
Team Canada has had a very impressive tournament outscoring opponents 36-14, with the only hiccup being the OT loss to Team USA in round robin play.  And let's be honest, that game was a complete crap shoot based on it being an outdoor game in very difficult to play in weather.
The Swedes are the only team in the tournament that can say they have not lost a game yet, although it did take them a shootout to beat the Russians in round robin play.  That said, they've gotten the job done against everyone they've played even though they have had some close games throughout the tourney (3-2 over Slovakia, 4-2 over the USA and 3-1 over the Czech's, in addition to the shootout win over Russia).
All of that said, these teams definitely deserve to be the two meeting in the finals after winning both of their groups.  Now let's take a look at the odds for the game from our top rated sportsbook for Canadians, SportsInteraction.com.
| | Sportsbook | Bonus | Review | Visit |
| --- | --- | --- | --- | --- |
| 1 | | 100% up to $200 | Review | Visit |
Canada vs Sweden Odds
Money Line and Over/Under
Canada 1.41
Sweden 2.71
Over/Under 6.5
Puck Line
Canada -1.5 (1.94)
Sweden +1.5 (1.77)
As you can see, Canada is the healthy favourite to win this game, but the odds show that it is far from a sure thing.
My Pick
I'm going to be taking Canada to win the gold.  At odds of 1.41 I think there is plenty of value on the Canadian squad, which I think wins this game 4 out of 5 times.
Team Canada has last year's shootout loss to the Americans in the gold medal game still etched in their mind and you can be sure that the returning players especially will be ready to go in this one to avoid a repeat outcome.
The Canadian powerplay has been downright remarkable, with the Canadians powerplays having a success rate of 57% to this point in the tournament, with 13 goals on 23 attempts.  The Swedes will have the best penalty kill of any team that the Canadians have faced so far, but I still think if Team Canada gets on the powerplay multiple times in this game they will find the back of the net.
I'm also a big believer in Carter Hart in goal.  He's been extremely steady for the Canadians and if he can at least match Filip Gustavsson's performance in this game, then the Canadians should have a huge edge.
Team Canada has spread their scoring around beautifully in this tournament and it could be any line that steps up with a couple big goals in this game.
Overall, I just much prefer the depth on Team Canada, as well as the special teams in this game.  Team Sweden definitely has the ability to keep this close and put up goals against Canada, but I think the overall experience and depth will turn the tide in favour of Team Canada as this game progresses.
Play: Team Canada 1.41
Check out our how to bet on the World Juniors page for a more detailed breakdown of how you can get your bet placed on tonight's finals.