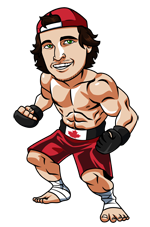 UFC 218 isn't the flagship PPV event that UFC 217 was, but luckily DraftKings realized they made the big contest far too small at UFC 217 and have increased the prize pools slightly for this card.  The $8 contest will have a $120,000 prize pool, while the $4 20-max will have a $35,000 prize pool.  Even with the small increases I expect these contests to fill quite a few hours before lock on Saturday.
Click here to set your DraftKings.com lineup for UFC 218.
Check out our daily fantasy MMA section for some tips that will help you construct a solid lineup.
Top Targets
Target #1 – Max Holloway ($9300) or Jose Aldo ($6900)
I really believe that whoever wins this fight will be in the winning lineup of large and small GPP tournaments.  I'm a little bit surprised at the prices, I would have though it would be closer to $8900 and $7300 or something like that, but the prices really don't change anything for me.
If Holloway wins this fight it will likely be either a finish or a very active decision win over 5 rounds.  Either one of these types of wins should net him enough points to put him in the winning lineup regardless of this price.  In the UFC 212 fight with Aldo, Holloway scored 116 points and that was with a 3rd round win in a fight that he seemed to actually be cruising in the first couple rounds.  That's a massive score and 3rd round finishes are often the worst possible scenario in title fights because you only receive a 40 point finishing bonus, while giving up 2 rounds of potential points you would receive in a decision.  Holloway's absolute floor with a win is 100 points in my opinion, so I'm targeting him even at this price.
On the flip side if Aldo wins he's 100% going to be in the winning lineup.  At $6900 he's the second cheapest fighter on the card.  He's not generally a high scoring fantasy fighter for a guy who always fights five rounders, but at this price he allows you to do a lot with your lineup and he will still likely score 90+ points if he can get the win, just based on the output we know he will have to match from Holloway.
I will be targeting this fight 100% and will likely end up going something like 60/40 in favour of Holloway, who I do think will get the nod at the end of the night.
Target #2 – Amanda Cooper ($9100)
I'm not worried about paying up for Amanda Cooper in this spot.  She's facing an awful opponent in Angela Magana, and she should be able to finish this fight or else rack up big points in a decision.  I have her floor in a win set at 90 points, but she could score higher than that and at odds of 1.25 to win the fight (which I think is a great bet), I think she's a safe play on a card where there looks to be quite a few opportunities to pay down.
Target #3 – Justin Willis ($8800) or Allen Crowder ($7400)
In this fight we have two heavyweights who are both pretty active, so even if we don't get the early finish, which is always what we are looking for with heavyweight fights, I still think these guys will be able to continue to push the pace and rack up points even if it goes to a decision.
Willis is a big guy who will likely look to get this fight to the mat, while Crowder is a small heavyweight, but he has decent grappling skills, so even if he does end up underneath Willis it won't mean he's out of the fight.
I'm not sure who will win this fight, but I'll likely have more Crowder exposure as a punt simply because he opens up a lot at his price tag.  I'll target this fight a lot probably having something like 25% Willis and 50% Crowder throughout my lineups.
Target #4 – Jeremy Kimball ($6800)
I will be punting on the cheapest guy on the card, Jeremy Kimball.  He impressed me in his last win over Josh Stansbury, and in the tape study leading into his UFC debut.  He lost that debut against Rogerio de Lima, but it was a short notice fight and I don't think he brought his best effort in that showing.
His opponent is Dominick Reyes, who is 7-0, but his only UFC win is over Joachim Christensen, who has since been cut from the UFC and has lost his last 3 fights in under half a round.  Reyes has not faced a UFC calibre opponent in his career, so him being priced as the biggest favourite on the card is surprising to me.
I do favour Reyes in this match-up, but only slightly and I think there is plenty of value in Kimball, who would 100% be on the winning lineup with a win.
Ready to set your lineups?  Click here to visit DraftKings.com.
Be sure to also check out my betting picks for this card as well.
Tagged With : Daily Fantasy MMA • Fantasy MMA • UFC 218 • UFC DraftKings • UFC DraftKings Targets • UFC fantasy