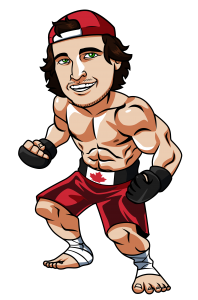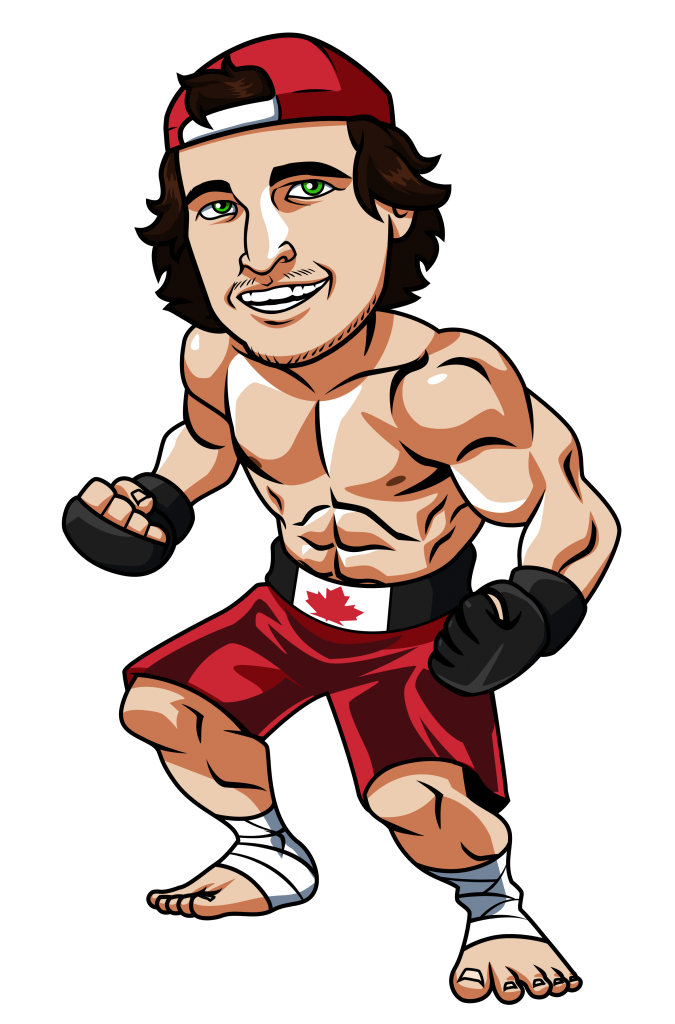 The UFC is headed to Atlanta this Saturday for an event that seems like it's meant to bridge the PPV gap between the massive UFC 200 and UFC 202 events.  Even though this PPV won't be breaking any records it still has several interesting fights and there's still money to bet won at DraftKings.
DraftKings.com will be running a big $75,000 contest with a $33 entry fee, as well as a $45k guaranteed contest with just a $3 entry.  There's always extra money to be won at the UFC pay-per-views because they bring in more casual DraftKings players, so let's take advantage!
Click here to set your DK lineup for UFC 201.
Check out my daily fantasy MMA page to learn more about the scoring system at DraftKings and also some tips for how to construct your lineup to give yourself the best shot at a big score.
***Check out my betting picks for UFC 201 here.
Now, let's get into my targets….
Top Targets
Target #1 – Matt Brown ($10,900)
I'm going to have Matt Brown in every single one of my lineups this weekend.  At 35 years old Matt Brown is still a very dangerous man who finishes fights, which is what I'm looking for in a DK fighter.  He does have 3 losses in his last four outings, but these losses came to Robbie Lawler, Johny Hendricks and Demian Maia.  Even in that most recent Maia fight, Brown was able to do some damage at points and that fight was a very bad match up for Brown.  Mark my words this guy still has some left in the tank and we'll see that this Saturday.
It also helps that he's fighting the ghost of Jake Ellenberger.  This guy is miles from his prime, but they keep matching him up against top 10 opponents.  Ellenberger has lost 5 of his last 6 fights, with the only win coming over another over the hill fighter in Josh Koscheck.  In these 5 losses he was finished 3 times and against someone as dangerous as Matt Brown, I can't see Ellenberger staying awake for this entire fight.
There's plenty of places to pay down on this card, so I don't mind spending the salary on Matt Brown in this spot.
Target #2 – Robbie Lawler ($10,600)
I'm also ready to pay up for Robbie Lawler.  It's never a bad idea to take a fighter from a five round fight because they get those extra two rounds to rack up points if they don't get an early finish.
To be honest, I'm not a huge Lawler fan.  In fact, I think he's very lucky to still be the champion after two controversial split decisions and just finishing Rory before losing a decision to him.  That said, Woodley is the perfect opponent for Lawler.  Woodley is susceptible to gassing in his fights.  In the only fight in his career that went past 3 rounds, he lost by a 4th round knockout to Nate Marquardt.  That was a fight he was winning and he simply didn't have anything left in the tank.
Lawler comes alive in the championship rounds.  He goes crazy and starts throwing bombs.  I expect one of those late bombs to put Woodley to sleep.
The path to victory for Woodley is getting a finish in the first couple rounds, but considering Lawler hasn't been KO'd in 12 years I don't see that happening.  Lawler should rack up enough points with a 4th round finish to pay off his salary.
Target #3 – Nikita Krylov ($10,200) or Ed Herman ($9,200)
This is a light heavyweight fight between a couple of finishers.  I see a first round finish in this fight one way or the other.  Nikita Krylov has never gone to a decision in his 20-4 MMA career.  That's the type of fighter you love to take or bet against in your DraftKings lineup.
Ed Herman also has finishing ability.  He's coming off a 2nd round KO of Tim Boetsch and two fights ago he lost via a first round TKO to Derek Brunson.
Both guys are also great submission fighters.
I expect whoever wins this fight to be in the optimal lineup at the end of the night.
Target #4 – Cesar Arzamendia ($9,600)
I don't know much about this guy, but the odds lead me to believe he's a good pick.  He has odds of 2.7 to finish inside the distance (36% chance) and he has odds of 2.00 to win the fight.  He lost his only fight so far in the UFC via KO, but it was to Marco Polo Reyes who has kept his momentum by KO'ing big name Dong Hyun Kim in his next fight.  I think Polo Reyes is more the real deal than Arzamendia is a bust.
Also, he's fighting Damien Brown, who is also coming off a loss in his UFC debut.
On top of all of that I like to take fighters from the first few fights because they are usually lower owned than the big name fighters, but they have just as much ability to put up a big score.
Top Fades
Fade #1 – Masvidal ($10,700) vs Pearson ($8,700)
This is a fight where I don"t see a finish happening.  Masvidal has gone to decision in 7 of his last 8 fights and Pearson has gone to decision in 5 straight fights.  I can also foresee quite a bit of clinch work which limits the amount of points each guy can score.
Fade #2 – Graves ($10,500) vs Velickovic ($8,900)
I really like Graves to win this fight, but I foresee him taking Velickovic down and grinding out a decision.  He might be able to get a late submission, but I think there are better places to pay up to $10,500 and I expect Velickovic to get under 10 DK points.
Those are my two fight fades for UFC 202.  I can't even fade Ellenberger because he has a punchers chances to KO Brown in this fight.  And we've seen underdogs get those KO's in the higher profile fights lately, so at his price I can't even recommend a fade of him, but I won't have him in any lineups.
Ready to set your lineups?  Click here to visit DraftKings.com.
Tagged With : DraftKings UFC • UFC 201 • UFC fantasy • UFC fantasy picks