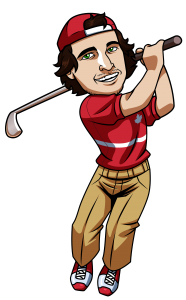 First of all check out my 6 outright winner picks article for The Masters this week.  There is some overlap between who I think are the best bets on the board for The Masters and who I will be targeting at DraftKings for the Milly Maker this week.
For my targets I'm focusing primarily on recent form, some course history for Augusta, wind play (it's expected to be +20 mph on Thursday and Friday) and also tee to green play.
***On top of the Milly Maker, DraftKings.com is also running a $100,000 Masters contest that is free to enter.  Click here to head to DraftKings.com.  You'll find the free contest in the golf lobby.  It's open to everyone who has a DK account, no deposit required.
Over $10,000
DJ is the favourite to win the tournament according to the oddsmakers, but he's only the second highest priced player heading into the tournament with Spieth significantly higher at $12,000.  That alone makes DJ a value play in my books.  I also don't think you have to worry too much about ownership percentage because from the tags at FanShareSports.com it looks like people are targeting DJ, Spieth and Rory fairly equally.  I actually expect Rory to be the highest owned guy at the top.
I'm personally going to be going 100% Dustin Johnson.  I just can't see how he doesn't at least top 5 this week.  He's won 3 straight tournaments, 2 of which were WGC events against the best in the world.  He finished 4th at The Masters last year and 6th the year before, which shows he's really figured out how to be successful at Augusta.  Add in his new draw shot shape and I think his off the tee game will set him up amazingly well for short wedges into holes this week.
Every way I look at it DJ is the guy to beat this week, so I'm going to ride or die with DJ in my Milly Maker entries.
Target: Dustin Johnson $11,300
$9000 Range
If you read my betting picks article for The Masters you'll know I love Rickie this week.  He's the best wind player on tour and the wind is expected to be a factor on Thursday and Friday at Augusta.  That should allow Rickie to be near the top of the leaderboard heading into the weekend.
He is also coming into this tournament in great form.  He finished 3rd last week at the Shell Houston Open, won earlier this year at The Honda Classic and has at least a top 20 finish in each of his last 5 tournaments.  He missed the cut at last years Masters, but before that he finished 12th and 5th in the previous two tournaments.
His form is exactly where I want it and Rickie seems to have turned a corner with the confidence in his putter of late, which should allow him to score on this course even in windy conditions.
Target: Rickie Fowler $9300
$8000 Range
This is a tough range for me because I don't love a lot of the plays at these prices.  I know Rahm will be very popular in this range, but he is going to be a fade for me.  A guy from this range that I will be rostering some is Sergio Garcia at $8300.  Sergio is quietly playing some very solid golf this year and his course history is fairly solid (3 top 20's in last 5 tournaments), but not solid enough where I think he will have a ton of ownership.
He can drive the ball great, his tee to green game is one of the best on tour, he's solid around the green and his approaches from the key range of 175-200 are ranked 24th on tour.  His stats match out great and if he can get the ball rolling well on the greens I could see him doing very well this week.
Target: Sergio Garcia $8300
$7000 Range
A lot of talk has been made of not rostering first time players at The Masters, but I'm making an exception for Tyrell Hatton.  It's been his first time at all of these tournaments in the USA and it hasn't stopped him from 3 straight top 10's on the PGA Tour.  He also played very well at the Match Play a couple weeks back, but a silly penalty cost him his tiebreaker.
I'm not really sold on Hatton to win the tournament, but I think a top 10 finish is definitely in the cards.  His tee to green game is very solid and if he can get the putter rolling like he has at the other PGA tournaments he will do very well.
Target: Tyrell Hatton $7600
$6000 Range
There are really two names that jump out at me in this price range and those are Adam Hadwin and Kevin Kisner.  Both of these guys are great value plays and I expect both to be high owned.  I think both guys can top 5 this year so I will be rostering each of them quite a bit, but I think my main focus in this range will be Kevin Kisner.  The main reason for that is because I think Adam Hadwin will be around 5% more owned than Kisner and I think Kis has just as good a shot at a high finish as Hadwin.
Kisner is trending in the right direction, he played in The Masters last year, so he knows what to expect and I think he will improve upon his 37th place finish.  Kisner is playing solid golf having finished 2nd at the Arnold Palmer Invitational and I think his game is there to contend at this years Masters.
He's a bargain at this price.
Target: Kevin Kisner $6900
Good luck in the Milly Maker this week guys.  If I don't take it down, hopefully one of you guys do!  And be sure to enter the free $100,000 contest even if you don't want to pony up the $33 to enter the Milly Maker.
Tagged With : Millionaire Maker • Milly Maker • The Masters • The Masters DraftKings