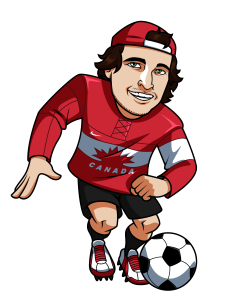 This is an absolutely huge, do or die game for the Spanish.  Spain came into the World Cup as the fourth favourites, behind Brazil, Argentina and Germany, but they are now holding on for dear life after losing their opening round match to the Netherlands.
All is not lost for Spain though, but their road does become much more difficult.  Let's remember that Spain lost their opening round match to Switzerland in the 2010 World Cup before going on to win the tournament.  An interesting thing about that is that Spain had to beat Chile in their third group stage game to qualify for the second round.  They ended up winning 2-1 and the rest is history.  In that particular match however Chile had already qualified for the round of 16 by defeating both Honduras and Switzerland in their opening two games.  This year Chile will also want to have a very good outing in order to take some pressure off themselves when they face the Netherlands in the third game of the group stage.
Spain vs Chile Odds
Here are the odds from our top rated sportsbooks for Canadian bettors.  I'm just looking at the three-way odds in this article, but Bet365.com has over 100 lines you can bet on.
Spain 1.59
Draw 4.63
Chile 6.02
My Pick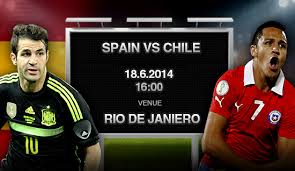 I think Spain is still being overrated at this World Cup.  They are an older team that doesn't generally score many goals, but that is very difficult to score on.  In their tune up matches they haven't played anyone as strong as Chile, except for Italy who they beat 1-0 in Spain.  Casillas made some big mistakes and his defenders couldn't keep up with the pace of van Persie or Robben for the Dutch.  This could pose a problem as well against Chile who have proven themselves to be a strong team.
Nothing, but a victory will be good enough for Spain in this one, while Chile will be quite happy with a draw.  This could result in us seeing some more attacking football from Spain, but this could also open up counter attack possibilities for a Chilean team that is strong enough to finish them.
I don't like Spain at 1.59 in this one.  I think Chile is a strong team that has as good a chance of getting at least 1 point out of this game as Spain does of getting 3.
I'm going to be splitting my bet and taking both Draw 4.63 and Chile 6.02.
**Do not take the Double Chance bet at Sports Interaction because they are only giving odds of 2.19.  If you split your bet between the draw and Chile odds you are effectively getting 2.62 odds on this double chance.
Tagged With : Chile • Spain • World Cup betting