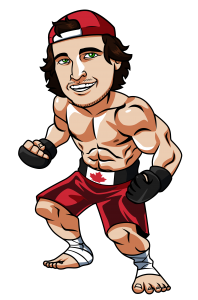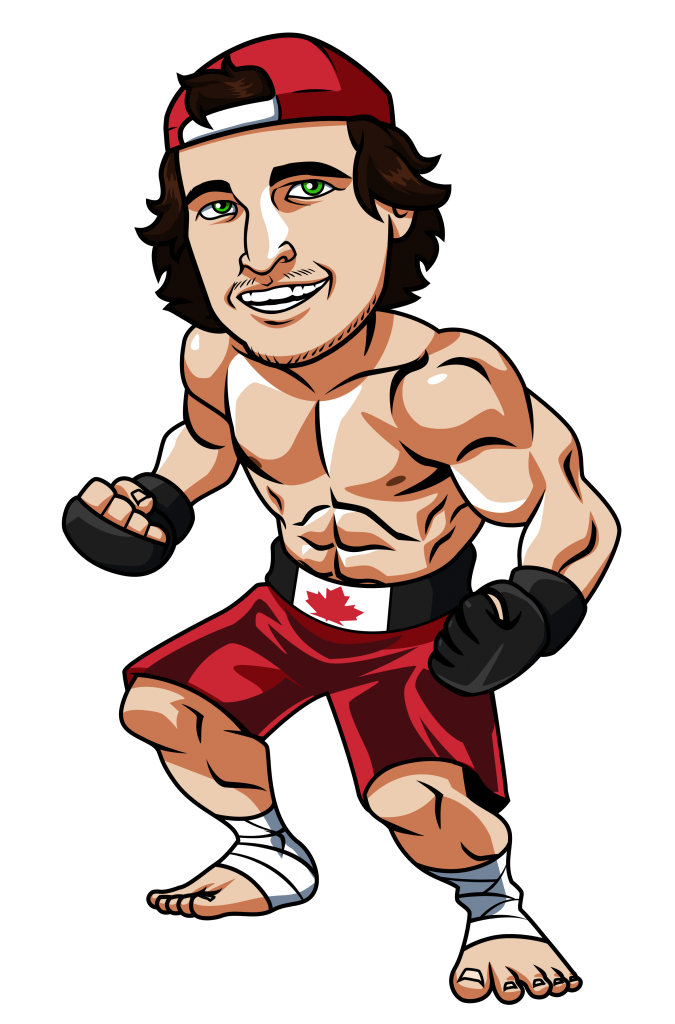 This week the UFC is heading to my home town of Ottawa, Ontario and I will be in attendance this Saturday so needless to say I'm excited about this card.  Also, the fact that I will be at the event has made me want even more action on the card so I've done even more research than I normally do for a Fight Night card in order to hopefully make some money this Saturday.
My DraftKings lineups at UFC 199 did not pan out as well as I would have liked due to my large exposure on both Lombard and Rockhold, each of who were huge favourites heading into their fights, but were both knocked out fairly early.  It was a shocking night, but when unexpected things like that happen it pumps me up and somewhat softens the wounds of my DK lineups not succeeding.  My targets #3-5 were all on point, but that wasn't enough when every one of my lineups had Hector Lombard.
Anyways, that was last week and now we're on to this week.  DraftKings.com is running a $25,000 guaranteed contest with a $27 entry as the main event for this weeks card, but they do have several tournaments for different buy-in amounts.  Below I will outline which fighters (or fights) I will be targeting and also which ones I will fade this week.
Click here to set your UFC lineup…
Check out my daily fantasy MMA page to learn more about the scoring system at DraftKings and also some tips for how to construct your lineup to give yourself the best shot at a big score.
****CANADIANS**** To celebrate that this UFC event is in my home town of Ottawa, SportsInteraction.com has bumped up the bonus I can offer my visitors to 100% up to $200 for this event.
Click here for all the details!
Top Targets
Target #1 – Sean O'Connell ($8,700) vs Steve Bosse ($10,700)
You'll notice a theme in this targets post in that I'm targeting certain fights more often than certain fighters.  This is due to the fact that fights that are likely to be striking wars and end with knockouts are the type of fights I want to target.  I also find on this card there's a lot of fights that are hard to call and I'm not too worried about the prices because there's enough value plays to go down to and I'm not completely sold on many of the expensive fighters.
In this fight I would be shocked if we didn't see a knockout one way or the other.  Steve Bosse is 11-2 in his MMA career and has only been out of the first round 3 times.  He knocked out James Te Huna within a minute in his last fight, but was KO'd by a head kick 30 seconds into his first UFC fight against Thiago Santos.  Sean O'Connell is also a very aggressive fighter who is coming off a 30 second TKO loss to Ilir Latifi, but who finished Anthony Perosh in less than a minute two fights ago.  These guys are both sluggers and I really don't think this fight will get out of the first round.  I will have one of these two on every single one of my lineups.
Target #2 – Ion Cutelaba ($8,500) vs Misha Cirkunov ($10,900)
Here's another light heavyweight tilt that I expect to end in a finish.  The Canadian, Cirkunov, is a big time UFC prospect who is on a 6 fight winning streak and the first 5 of these fights he finished in the first round, which his most recent fight against Alex Nicholson taking the big man until the second round.
Ion Cutelaba is a 22 year old from the Republic of Moldova who is making his UFC debut.  He's riding a 7 fight winning streak from promotions over in Europe and he's finished each of those fights in the first round.  In fact, if you check out his Sherdog page you'll see that the longest it took him was 2 minutes and 37 seconds, while his last win was in just 8 seconds.  The guy is a potential killer.  He's a great value play at $8,500 because he definitely has a chance to get a finish with his power.
Once again, I will have one of these guys in every one of my lineups.
Target #3 – Stephen Thompson ($9,800) vs Rory MacDonald ($9,600)
Continuing with the picking fights instead of fighters theme, I am also targeting the main event.  I think this is going to be an absolute battle royale between these guys and even if neither gets the early knockout the main event is 5 rounds, which gives you an extra couple rounds to pick up big points.
I think there's a good chance this fight stays standing and Wonderboy is always a threat for that highlight reel KO, while MacDonald is a great all around fighter that can finish a fight in a lot of ways.
I'm not quite as high on this fight as the first two, but I will be looking at this fight quite a bit.
Target #4 – Joanne Calderwood ($9,300)
Calderwood is a great value pick at just $9,300.  Seeing all this value on the card actually makes me wish I was higher on some of the more expensive fighters.  Calderwood probably won't get a finish in this fight, but I don't see Letourneau finishing her either.  These ladies will likely keep it standing and exchange strikes, which as we've seen in the JJ vs Letourneau title fight, can lead to plenty of DK points.  Calderwood has averaged 6.67 strikes per minute in her three UFC fights, which is absolutely ridiculous.  Add in the fact that Letourneau took 220 strikes from Jedrzejczyk and you know she can hit the Canadian and rack up some DK points.
I normally give a few more targets than this, but when you add in the 3 fight targets you have 7 fighters to target in your lineups.  I really think the majority of the fights on this card are very even, so it's hard to find fighters that I'm really confident in.  This is why I'm targeting fights more than fighters on this card.
Top Fades
Randa Markos ($10,500) vs Jocelyn Jones-Lybarger ($8,900)
I expect Markos to win this fight, but I think she's going to make it boring.  She will likely move to take down Jones-Lybarger and use her wrestling to control the position on the ground.  I think Markos wins for sure, but not in a method that will rack up points.
Chris Beal ($10,000) vs Joe Soto ($9,400)
The oddsmakers are giving Beal odds of 3.5 to finish inside distance and Soto odds of just 5.29.  This is another fight that I see going to a decision, which is not the upside that I'm looking for in my fighters.
Thibault Gouti ($8,400)
Gouti is the most inexpensive fighter on this card and for good reason.  He's fighting Aubin-Mercier who is going to use his wrestling and grappling to control Gouti throughout this fight.  Aubin-Mercier's smothering style doesn't give himself many DK points, but it makes it near impossible for his opponent to get any points.  I wouldn't be surprised if Gouti finishes this fight with fewer than 10 DK points even if the fight goes all 3 rounds.
Krzysztof Jotko ($8,800)
I expect Jotko to be controlled for the majority of this fight against McCrory as well.  Jotko could definitely win this fight, which is why I don't have McCrory as a target, but I don't expect much action and I definitely don't expect a finish.  Jotko's last 6 MMA wins have all been via decision.
So there you have it, 7 targets and 5 fades from my hometown UFC Ottawa card.
Ready to set your lineups?  Click here to head to DraftKings.com.
Tagged With : UFC betting • UFC fantasy • UFC Ottawa