Hopefully you all checked out my most recent DK targets article for UFC 207 because I gave away some very solid picks.  In fact, if you follow the site on Facebook you will have seen that I actually took down the $3 contest for a cool $4500 (tied for 1st with one other) and I used all 5 of my targets from that article in that lineup.
There's a screenshot of my winning lineup.  Dillashaw was the only fighter that I didn't include in my targets article for that card.
There aren't nearly as big of contests for UFC Fight Night Denver as there were for UFC 207 so it's no going to be possible to take down $4500 from $3 this Saturday, but DK is still offering some solid contests including two $3 entry contests with $13,000 guaranteed each, as well as a $27 contest with $40k guaranteed.
Click here to set your DK lineup…
Check out our daily fantasy MMA page for some general tips that will apply to every card including this one, as well as more of an explanation about how the contests work.
Also, be sure to check out my betting picks for this card.
Top Targets
Target #1 – Julianna Pena ($7800) or Valentina Shevchenko ($8400)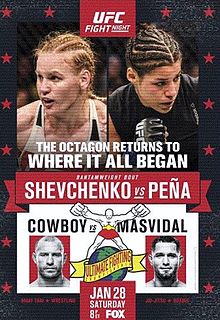 If you read my past DK picks articles for UFC cards you may have noticed I almost always like both fighters from the main event.  The reason for that is because the fight is 5 rounds instead of 3, so even if there is a decision both fighters can still rack up significant points in those extra 10 minutes.
I see this fight going one of two ways.  Either Shevchenko is able to pick Pena apart on the feet for 5 rounds and possibly get a TKO if Pena is over aggressive looking for the takedown, or Pena is able to get this fight to the mat by getting clinch and overpowering the smaller Shevchenko.
I'm going back and forth on what way I think this fight goes, which is why I think there is value in both of these ladies.  I'll be splitting my ownership down the middle between these two.
Target #2 – Francis Ngannou ($9600) or Andrei Arlovski ($6,600)
The first big punch that lands is going to finish this fight.  The odds of this fight starting round 2 are just 1.64, which means there is an implied probability of 61% that this fight ends in the first round.  It's a big price to pay for Ngannou, but if you think he gets the first round KO then you should have him in your lineup.
I'm actually going to be having more exposure to Andrei Arlovski.  I think many people are overlooking the fact that Ngannou has never faced anyone on Arlovski's level and the fact that although Andrei is on a 3 fight losing streak those fights were against some of the best in the division (Miocic, Overeem, Barnett).  I could see Arlovski getting the first round finish as well and at $6600 you would absolutely need him in your lineup if that does occur.
Target #3 – Li Jiangliang ($8100)
This is a value play on Li Jiangling.  He's the favourite in this fight with odds of 1.69 vs Bobby Nash coming in at 2.25, but both fighters are priced at $8100.  Jiangling is also a finisher with his two most recent UFC wins coming by way of first round knockouts.  Nash is a tough opponent who will have the advantage in wrestling, but if Li can keep the distance he has the advantage on the feet where he is a very active striker (4.35 strikes landed per minute).
Don't get me wrong, Li could lose this fight, but he's a solid value play with big upside.
Target #4 – Rogerio de Lima ($9100)
De Lima is a finisher.  All five of his UFC fights have ended in the first round and he won 3 of them with scores of 124, 109 and 104 on DraftKings.  He's pricey, but he's been given odds of 1.83 to finish Kimball within the first round and although Kimball is a durable fighter I don't think he will be able to survive the early flurry from de Lima.
Target #5 – Alex Caceres ($7700)
If you need to fins somewhere to pay down look no further than Alex Caceres.  Since moving up to featherweight Caceres has gone 2-1 with his one loss a tight 5 round split decision to highly touted promotional prospect Yair Rodriguez.  I used to really be down on Caceres, but since moving up to featherweight he's looked very strong, while at bantamweight he looked frail and it seemed to me he couldn't do damage at that weight class.  Now that he doesn't really have to cut weight he looks fast and powerful, which really benefits his unorthodox style that requires a large gas tank.
Caceres is the underdog in this fight with Jason Knight and I really don't know why.  Knight is 2-1 in the UFC and although he looked solid in his last couple wins I think a large part of his hype comes from his rubber guard that is very dangerous from the bottom and one of the most flexible in the UFC.  That said, I believe that Caceres is a new man at featherweight and I think his experience fighting high end fighters will give him the edge in this fight.
Also, even if this fight goes to decision you know Caceres will be active on the feet and on the mat.  He lands 3.76 strikes per minute and Knight is another fighter that moves forward which will result in this being a fire fight.
I'm excited for this bout and I like Caceres to get his hand raised and rack up 90+ DK points in the process.
Ready to set your lineups?  Click here to visit DraftKings.com.
That's it for my targets for UFC Fight Night Denver.  A couple other fights I would target that will likely have a finish are Nate Marquardt vs Sam Alvey and Jordan Johnson vs Henrique da Silva.
Tagged With : DraftKings MMA • DraftKings UFC • UFC DraftKings Targets