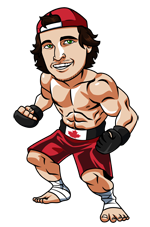 I really liked my UFC 223 DraftKings lineups and then Tony Ferguson had to pull out of the main event.  That said, I still do think there are some great value plays and after splitting my exposure between Khabib and Holloway I feel pretty good about my lineups once again.
DK is running a $10 contest with $150,000 guaranteed and $25,000 to first place for UFC 223.  There is also a $150 contest with $10k to first and $35k guaranteed overall, as well as many other solid contests.
Click here to set your DraftKings.com lineup for UFC 222.
Check out our daily fantasy MMA section for some tips that will help you construct a solid lineup.
***Special Sportsbook Offer For Canadians***
We've been able to secure a free $20 bet offer for any fight on the UFC 223 card.  This offer applies for new Canadian sign ups to SportsInteraction.com.  This free bet is in addition to the 100% up to $200 bonus I can normally offer to new SIA sign ups.  Click here for all the info and to claim your bet.
Top Targets
Target #1 – Joanna Jedrzejczyk $8300
I'm not saying Rose's win over Joanna in their fight back in November was a fluke.  It wasn't.  Rose came in with a great game plan and landed a clean lead left hook several times in that fight.
That said, I do think Joanna has the ability to adjust her defense and improve on what she did wrong coming into this fight.
And if she does figure Rose out and revert back to what her ability has been in the past then we know her floor is around 100 points in a 5 round title fight.  At $8300 that is an absolute steal.
I think I'm going to put my foot down in this spot and go 100% Joanna across my lineups, but I can't argue against taking Rose either.  The mistake would be to fade this fight entirely.
Target #2 – Khabib Nurmagomedov $9100 or Max Holloway $7100
I was on Ferguson a ton at $7100 before the news of his injury forced me to adjust my lineups.  I'm not quite as high on Holloway as I would have been on Ferguson, simply because he's coming in on short notice and coming off an ankle injury that kept him out of his own title fight just 1 month ago.
That said, I think Holloway is an interesting contrarian play that allows you to do a lot with your lineup, and I definitely give him a shot at winning while racking up points.
Again, I think you need 100% exposure to this fight in general, and I personally will likely be splitting right down the middle, 50/50.
Target #3 – Anthony Pettis $7600
My favourite under priced fighter on the card is Anthony Pettis at just $7600.  I'm simply not sold on Michael Chiesa as an elite fighter and I may even give the edge in the grappling to Anthony Pettis.  At the very least he will not be out of his depth if this gets to the mat and he's by far the more explosive and dangerous striker on the feet.
All 5 of Pettis' losses in his recent 2 years of mediocrity have come against fighters better than Michael Chiesa.  At this price, I think Pettis is a great value play who can finish the fight in a variety of ways.  I'm expecting Pettis by submission.
Target #4 – Al Iaquinta $8200 or Paul Felder $8000
This is another fight where I will likely be splitting right down the middle and having around 40% exposure to both guys across my lineups.  This should be a firefight and whoever wins should be able to rack up a lot of points.  Both guys have fight finishing power and I also would not be surprised if Felder was able to secure a submission.
Target #5 – Zabit Magomedsharipov $9500
If you have the money do not hesitate to pay up to Magomedsharipov.  This guy is an absolute stud and I expect him to be fighting for the featherweight title sooner rather than later.  He has dynamic, unpredictable striking with a good deal of output, while also being able to wrestle and grapple extremely well.
In his last fight he secured 11 takedowns and 10 passes in a third round submission win that earned him 152 DK points.  The guy is built for DK scoring and if you can pay up for him I think he should be a great start to your lineups.
Ready to set your lineups?  Click here to visit DraftKings.com.
Be sure to also check out my betting picks for this card as well.
Tagged With : DraftKings • DraftKings MMA • DraftKings UFC • UFC fantasy