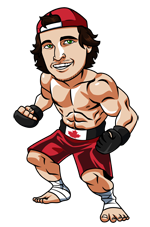 I like UFC 222 for DraftKings plays.  Yes, it's a bit of a weak PPV event now that the Holloway title fight fell through, but the DK prize pools are solid and you can pencil in Cyborg into all of your lineups and build from there, which makes lineup construction a little bit easier.
DK is running a $10 contest with $140,000 guaranteed and $25k to first place, which is a great contest for this quality of a card.  In addition to that main event there is also a $30k guaranteed contest with a $33 entry and a $21k contest with a $333 entry fee, as well as many single entry and 3-max contests that allow you to avoid mass entry pros.
Click here to set your DraftKings.com lineup for UFC 222.
Check out our daily fantasy MMA section for some tips that will help you construct a solid lineup.
Top Targets
Target #1 – Cris Cyborg $9700
I'm going to find a way to get Cyborg into my lineups.  I think there are enough value opportunities on this card that you can lock Cyborg and her 90 point floor into your lineups.
Cyborg is back in there against an average 135 pound fighter, very much like her wins over Leslie Smith and Lina Lansberg where she scored 116 and 134 DK points with first and second round KO's.
After not being able to finish Holly Holm in her last outing, I think Cyborg will want to get back into the KO column and I see her having no trouble outclassing Kunitsaya wherever this fight takes place.  Cyborg is leaps and bounds the better athlete in this fight and she has far more experience inside the cage as well.
I expect a first or second round KO and over 100 DK points, which makes me believe she will be on the winning lineup of GPP's.  Even if she's 75% owned I still think Cyborg is a strong play this week.
Target #2 – Frankie Edgar $8700
In the co-main event I'm big on Frankie Edgar to rack up points in a win over Brian Ortega.  Yes, Ortega is an extremely dangerous finisher, but he gets beat up before his finishes in most fights and his opponents would all have actually racked up a ton of points if they weren't finished in their fights.
Against Diego Brandao Ortega was outstruck 56-29 and landed 2 takedowns before losing in the third round via submission.  If the fight ended before that sub Brando scores 71 points.
Thiago Tavares would have scored 91.5 DK points if he survied the last minute of their fight.  Moicano would have scored 94.5 DK points if he got the decision win by surviving the last few minutes against Ortega.  Even Swanson had already landed 60 significant strikes before being finished in the second round.
Ortega takes a ton of damage and I think Edgar will be able to mix in a lot of strikes with some takedowns, while being cautious of the finishing abilities of Ortega.
Edgar has never been finished in his entire 28 fight MMA career and I expect the experienced veteran to last all three rounds and rack up around 90 points in this fight with Ortega.
Target #3 – Andrei Arlovski $7400
My favourite low priced target on this card is Arlovski at $7400.  The odds for Arlovski to win the fight have shortened from an opening line of 3.90 to 2.60.  Combined with the odds of Arlovski getting the finish at 4.54 and this is a great punt play in the lower price range, which should allow you to afford Cyborg and Edgar more easily in your lineups.
I'm personally not a big believer in Struve and I think Arlovski has taken a lot of flack for his five fight losing streak prior to his recent win over Junior Albini.  Yes, nobody wants to lose 5 in a row in the UFC, but those fights were all against high end heavyweights (Miocic, Overeem, Barnett, Ngannou, Tybura), each of whom would be favoured over Struve.
I personally have Arlovski to win this fight even if it was a pick'em.  I expect him to get a knockout, so I will have a ton of exposure to Arlovski in my lineups this week.
Ready to set your lineups?  Click here to visit DraftKings.com.
Be sure to also check out my betting picks for this card as well.
Tagged With : DraftKings • UFC 222 • UFC 222 Fantasy • UFC DK • UFC DraftKings • UFC fantasy