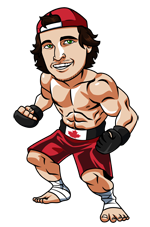 UFC 220 is a solid card with two title fights that I think could be the best card of the first half of 2018.  The main event between Stipe Miocic and Francis Ngannou is a massive fight which will see the baddest man on the planet title settled between the 3-time defending champ and the most hyped prospect the UFC's heavyweight division has ever seen.
DraftKings is running a $10 entry contest with $135,000 guaranteed as the main contest for this card.  This is slightly bigger than the past few PPV contests, but I still think it will easily fill.  In addition to this $10 main event, there is also a $4 contest with $30k guaranteed, a $33 contest with $30k prize pool and it's also the beginning of the 3 week MMA Fight To The Finish promotion for anyone who won seats during the past few months.
Click here to set your DraftKings.com lineup for UFC 220.
Check out our daily fantasy MMA section for some tips that will help you construct a solid lineup.
***Also be sure to join our UFC 220 pick'em contest.  There's $500 in prizes to be won and it's free to enter.  Get all the details here.
Top Targets
Target #1 – Francis Ngannou ($8900) or Stipe Miocic ($7300)
One of these guys from the main event is going to score highly.  Both guys have fight finishing power and this fight has an over/under of 1.5 rounds with the under being favoured at odds of -152.  There's a great chance that one of these guys gets a first round finish that will likely include a knockdown to get over 100 points.
Ngannou has scored 90+ points in his last four, while Miocic has scored over 110.  The reason for Miocic scoring more is actually because Ngannou generally only needs a few strikes before ending the fight, while Miocic has scored over 20 significant strikes in each of his first round title fight wins.
Either way, there is a very good chance the winner of this fight is in the optimal lineup, especially on a card with only 11 fights.
Target #2 – Daniel Cormier ($9200)
I'm also going to be targeting the other title fight, but in this one I'm going to have the vast majority of my exposure on Daniel Cormier.  I just don't see Cormier going unconscious from the hands of Oezdemir like Cirkunov and Manuwa did in his recent wins.  Cormier is a crafty vet who has the best wrestling in the light heavyweight division.  If he avoids getting knocked out early, which is Oezdemir's only path to victory, then I expect him to be able to control this fight and rack up points with takedowns, ground and pound, and potentially and early finish of his own.
**Punting on Oezdemir at 7k isn't a bad play either.
Target #3 – Thomas Almeida ($8200)
The Almeida vs Font fight should be a high paced fight that will score highly.  I'm leaning Almeida personally, but I think either guy is a good DK play because they both have a shot at winning and whoever does get the nod should score highly.
Almeida lands 6 strikes per minute, while Font lands 5.23.  These are both very high rates and they both actually absorb a lot of strikes as well, which shows they're both willing to eat a punch to do their own damage.  I think this fight will stay standing and both guys will rack up significant strikes, while there is a great chance of a finish as well.
The finishing ability of Almeida is why I'm ultimately going to have a larger portion of him to Font.  He has odds of 2.75 to finish the fight inside distance, while Font has odds of 3.35.
Target #4 – Dustin Ortiz ($7700)
One underdog I'm targeting is Dustin Ortiz.  He loves to scramble and can rack up a lot of points through takedowns and advances.  He has shown the ability to put up big DK scores, but he's a really boom or bust play because sometimes it doesn't seem like he brings his A-game.  That said, he's faced the tougher competition in his UFC career than Pantoja, and I think he will be able to hold his own on the feet, while potentially getting some takedowns to rack up some points.
Target #5 – Islam Makhachev ($9100)
Makhachev is expensive, but he's a great DK play because he can rack up takedowns in a hurry.  In his most recent fight with Nik Lentz he ended up with 5 takedowns and 12 advances, while in the previous fight with Chris Wade he racked up 4 takedowns and 7 advances.
Tibau was a solid fighter in his prime, but he's now 34 years old and coming off an over two year layoff after testing positive for PED's in late 2015.  Tibau isn't the most dangerous guy when it comes to finishing the fight, so I think Makhachev should be able to look for his takedowns and work his game plan en route to a fairly dominant decision.
Ready to set your lineups?  Click here to visit DraftKings.com.
Be sure to also check out my betting picks for this card as well.
Tagged With : Daily Fantasy • DraftKings UFC • UFC betting • UFC fantasy • UFC picks