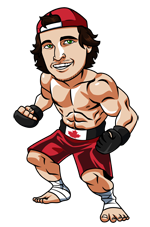 DraftKings is really showing their commitment to daily fantasy MMA with yet another $200,000 guaranteed contest for UFC 215, with just an $8 entry fee.  They did this same contest for UFC 214, and it filled, but that was the biggest UFC card of the year.  I'm not convinced that the the contest will fill this time around, but hopefully it does so we can continue to see these monster contests for every UFC event.
Below I will give you my favourite DraftKings plays for UFC 215.  I'm going 100% with two plays and will also be heavily invested in a couple of other fighters, which I will get into below.
Ready to set your lineups?  Click here to visit DraftKings.com.
Top Targets
Target #1 – Demetrious Johnson ($9600)
Mighty Mouse is very expensive at $9600, but I'm still going to be using him in 100% of my lineups.  He's scored over 100 points in each of his last three fights and 5 of his last 6.  If he wins this fight, which I fully expect, then I fully expecting him to score 100+ points.  There's a lot of value on this DraftKings slate, so it's very easy to include Johnson in your lineups without having to sacrifice too much elsewhere.  I expect him to be around 60% owned in the $8 contest, but I really believe there is an extremely good chance he will be in the winning lineup, so I'm going all-in.
Target #2 – Amanda Nunes ($8100) or Valentina Shevchenko ($8100)
The other 100% exposure I'm going to have will be the women's bantamweight fight between Nunes and Shevchenko, except instead of picking one fighter I will be going 50% Nunes and 50% Shevchenko throughout my lineups.  Nunes is so dangerous that she could very well win this fight early.  She also has shown that she gasses after a couple rounds and if that happens, Shevchenko could finish the fight late or win a 5 round decision.  Either way, whether there is a finish or a decision victory, the five round fight will ensure that whoever wins this one will end up with a good amount of points.
Target #3 – Alex White ($7400)
The DraftKings prices came out before the betting odds for the under card fights and that has resulted in some mispriced fighters, the most blatant being the Alex White vs Mitch Clarke fight.  Alex White is priced at just $7400 even though he is a big favourite in the fight at odds of around 1.55.  Because of this White will be a high owned pick in the lower price range, but I still think you need to take as much of him as you can.  White is a solid fighter who will have the edge on the feet and will also be able to take the fight if he so chooses.
Clarke is not a strong opponent, who's only good win was a lucky submission over Al Iaquinta.  Outside of that win he is 1-4 in his other UFC fights and he hasn't fought in over a year since getting destroyed by Joseph Duffy.
Taking White allows you to easily include Johnson in your lineups, which will be the route I'm taking.
Target #4 – Adrian Martins ($9000)
Martins is the third most expensive fighter on the card, but I think with people being attracted to taking Johnson and Cejudo, he may go under owned.  That said, I think Martins has a great chance at a big win in this fight against Kajan Johnson.
Martins has odds of 1.77 to win the fight inside distance and if he can get a first round KO he will very likely be in the winning lineup on this card.  Johnson hasn't fought in two years and this will be a big step up in competition since his recent wins.
Ready to set your lineups?  Click here to visit DraftKings.com.
The other fighters that I will be looking at include both Bhullar ($7900) and Henrique ($8300) from their fight, Sara McMann ($8900), Rafael Dos Anjos ($8600) and Wilson Reis ($7100).
Also be sure to check out my 3 betting picks for this card.
Tagged With : Daily Fantasy MMA • DraftKings • DraftKings MMA • UFC 215