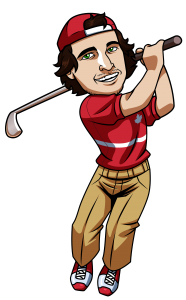 The first Grand Slam event of the PGA season is here and with it we get a free $5000 contest courtesy of DraftKings.com.
Without wasting any time here's the link to join the contest.  More details about the contest will be outlined below…
Free $5000 Contest –>  Click here to enter.
Contest Details
The contest is free with $5000 in prizes added to the prize pool from DraftKings.
Top prize is $100.
The top 795 finishers win a prize of at least a $5 ticket into a PGA Double Up contest.
At the time of writing this there were only 510 entries (great value).
The contest is only open to PGA beginners.  This means you can only enter the contest if you've entered fewer than 50 PGA contests at DK in the past.
The fact that the contest is only open to beginners means that the number of people entering the contest will stay relatively small, and also means that the more experienced DK players will not be allowed to participate, which gives a much better chance for beginners to cash some money.  For example, I'm not able to participate because I play plenty of PGA contests on DraftKings from week to week.
DraftKings Millionaire Maker
I should also mention that this is the first PGA Millionaire Maker week of the season, with DraftKings holding a $20 entry contest that will crown a Millionaire on Sunday.  There is $4,000,000 in total prize pool in that contest, so if you have some funds in your DK account, it's a great opportunity to take a stab at a Million dollars.
Check back in the next few days for Travis' targets at DraftKings for this week's Masters event.