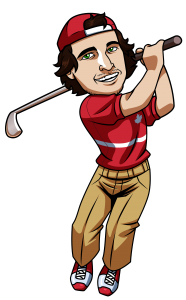 First of all, check out my pick 6 outright winners article for my betting picks on the Shell Houston Open this week.  There is some minor overlap between the two articles, but I have a couple targets here that I'm not betting and vice versa.
The Shell Houston Open is the last tournament before The Masters and players generally like to play it because the course has a similar feel to Augusta and players often like to head into The Masters coming right out of a tournament.  This week DraftKings.com is running a $300,000 Birdie contest with a $3 entry fee and a $400,000 Dogleg with a $33 entry fee.  This is also your final week to satellite into next weeks Millionaire Maker event.
Over $10,000
This range features just four golfers with Jordan Spieth coming in with a massive $12,000 price tag, while Jon Rahm ($10,700), Henrik Stenson ($10,400) and Rickie Fowler ($10,000) fill out this range.
My focus in this range will be on Rickie Fowler.  I think he could be overlooked among this group, especially because he was out of sight at the WGC Match Play last week.  That rest should give Fowler a leg up on the competition coming into this week.  Rickie is also playing some great golf, following up his win at the Honda Classic with 16th and 12th place finishes at WGC Mexico and the Arnold Palmer Invitational.
Rickie has also shown he can perform at this tournament with a 10th place finish last year and a 6th place finish in 2014, going -9 in both of those events.  Rickie has largely reduced the blow up holes of late and if he can continue that trend he has a great chance to be among the leaders on Sunday.
Target: Rickie Fowler $10,000
$9,000 Range
I can't look past the course history that J.B. Holmes has at the Houston Open.  He won the tournament in 2015 before skipping the event last year.  Before that win Holmes finishes were as follows: 12th, 8th, 42nd and 2nd.
He didn't advance out of his group at the Match Play last week, but his recent stroke play form has been solid.  He finished 12th at the WGC Mexico Championship and prior to that has not finished higher than 34th in the other 4 tournaments he's entered this year.
The stats also line up nicely for Holmes with him ranked 13th in approaches from 175 to 200 yards and 22nd in birdie or better percentage.
Target: J.B. Holmes $9200
$8,000 Range
Russell Henley's course history stands out significantly at this tournament and for that reason I think he will be high owned.  Henley has finished 5th, 4th and 7th in his last three trips to Houston.  That said, I'm not going to shy away from Henley who seems to have found his game of late with two top 20's in his past four tourneys after struggling early in the season.
Henley has the ability to go low and it's been a blowup round in each of his past three touraments that have prevented him from finishing very strongly.  Henley has not had a significant blowup round in any of his four trips to the Shell Houston Open and based on his decent current form I don't expect him to start this year.
Target: Russell Henley $8700
$7,000 Range
This range has a ton of great plays, so it was difficult to single out just one player, but that's what this format of article calls for.  I decided to go down near the bottom of the prices and target Tony Finau in this range.
Finau has found his form of late finishing 5th at Valspar and 28th at the Arnold Palmer Invitational.  He did miss the cut last year due to a blow up 76 round 2 and he actually had a blowup round of 77 in 2015 as well, but his other 4 rounds in Houston have all been in the 60's, so if he can avoid the blow up round he definitely has the ability to go low at this course.
His stats line up perfectly with the course considering Finau is ranked 8th in strokes off the tee, 25th in birdie or better percentage and 12th in approaches from 175-200 yards.  When playing tournaments you want guys who have the ability to go low and at least top 5 from these low priced guys.  I think Finau more than fits the bill in that respect.
Also, let's not forget that Finau has some good karma coming him way after being very graceful about the withdrawals at the WGC Match Play as the first alternate.
Target: Tony Finau $7100
$6,000 Range
I'm going to my main man Ollie Schniederjans who is under priced to be in the $6000 range.  Ollie has been playing some great, consistent golf this year and if it wasn't for missing the cut by one shot at the Valspar Invitational, Ollie would have made the cut in all 8 tournaments he's played this year.
Schniederjans has two top 10's this year and his consistent play should make him a safe pick to make the cut at the Houston Open and if he can get some putts to drop I can see the potential for another top 10 this week.
Target: Ollie Schniederjans $6700
Tagged With : DraftKings golf • DraftKings Targets • Shell Houston Open