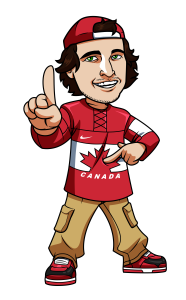 PayPal is the most popular and easiest to use e-wallet available online. So it's a bummer that PayPal does not allow sportsbooks to accept PayPal deposits from the majority of Canadians (outside of Ontario).
With Ontario becoming a regulated sports betting market, we are seeing Paypal becoming available at various licensed sportsbooks operating in Ontario. Below I outline one of our recommended betting sites for Ontario residents that is accepting Paypal as a payment option.
Sites That Accept PayPal Deposits
Sportsbook
Features
Offers
Rating
Bet Now
**Bet99 currently only accepts PayPal Deposits from Ontario residents.
Bet99 is licensed by iGaming Ontario to operate in Ontario (Bet99.ca), while also operating in the rest of Canada (Bet99.com). The PayPal deposit option is only available on the Ontario Bet99 website (Bet99.ca).
PayPal Deposit Guide
As I mentioned in the first sentence of this page, PayPal is by far the easiest e-wallet to use online. In this section I'll walk you through setting up a PayPal account through to depositing at Bet99.ca.
**Again, only Ontario residents are able to deposit via Paypal at Bet99.**
Sign Up For and Fund Your PayPal Account
I'm going to assume that most of you reading this already have a fully functional PayPal account. They are so handy when it comes to all types of ecommerce that I suspect the majority of people in Canada already have an account. If you don't have one, you can quickly open an account. It's very easy to sign up. You just fill out a quick form with your basic personal information and you're all set up. You will then need to connect a credit card or bank account to your account in order to use PayPal to make purchases online, but that's extremely easy as well.
Alright, moving on….
Making Your Deposit
At Bet99.ca you can choose PayPal as your deposit method. To deposit via PayPal select the amount you wish to deposit and click 'Deposit Now'.
You will then confirm the details and click 'Deposit' to be taken to the Paypal website to complete the deposit.
Withdrawals
Making a withdrawal is just as easy as depositing. Simply select 'Withdraw' from your account page, enter the amount you want to withdraw and enter your PayPal email for payment.
From my experience the funds will be in your PayPal account within 24 hours. You can then choose to keep the funds in your PayPal account for other online purchases or you can withdraw the funds from PayPal to your personal bank account.