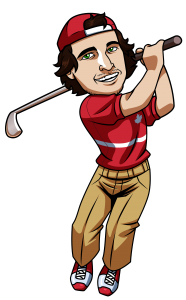 The last major of the year is here.  This week the top golfers in the world head to Quail Hollow Club to battle it out for one of golfs four biggest prizes.  Rory McIlroy is the favourite heading into the week with some great course history at Quail Hollow and similar courses, but guys like Spieth, Fowler, Matsuyama and more have their plans to lift the trophy as well.
In this article I'm going to give you my favourite play at each DraftKings price range.  DK is once again holding a Millionaire Maker tournament so a new fantasy millionaire will be crowned this week and hopefully it is one of us.
Above $10,000
There are 7 big time golfers in this range with Spieth topping the list at $12,000 and Rory coming up second at $11,800.  Out of those two I would lean towards Rory this week, but he does have a new caddy and that could slightly affect his approach shot selection, which was where he struggled some last week at the WGC-Bridgestone.  I'm looking a little ways down the list to Hideki Matsuyama at $10,500.  These prices came out before Hideki shot his 61 on Sunday to win the WGC last week.  If we know anything about Hideki it's that he can keep a hot streak going.  Matsuyama finished 2nd, 1st, 1st, 2nd to start off his season and won another tournament a few months later at the Phoenix Open.  After that he stumbled slightly, but has turned it on lately with a T2 at the US Open followed by a T14 at the Open Championship and now a win at the WGC-Bridgestone.  There's no reason to think that a win will result in Hideki taking his foot off the pedal, especially heading into a major.  He has the length to shorten these holes and was throwing darts with his approaches last week.  Hideki is great value and at this price he should be your main target in the top range.
Target: Hideki Matsuyama $10,500
$9000 Range
There are only four guys in this range, but Koepka stands out significantly over the others.  He had a very rough start to the season, but turned things around midway and was able to pull off a career win at the US Open a few tourneys back.  He's still playing well with a T6 at The Open and a T17 last week at the WGC-Bridgestone.  This course sets up very well for Koepka as long as he can avoid putting his ball in the water, which is an area that has hindered him in the past.  That said, he has huge upside and his length should be a factor on several of these holes this week.
Target: Brooks Koepka $9200
$8000 Range
Adam Scott is an elite player at very reasonable price this week.  He hits the long ball with the best of them and his long irons are some of the best in the game.  If he can get his putter rolling this week he will certainly be at the top of the leaderboard come Sunday.  Scott has been putting together solid rounds in his last three tournaments and looks to be right where he needs to be with his game to make the jump to that next level.
Target: Adam Scott $8600
$7000 Range
The $7000's have a ton of great plays, but if I had to just pick one guy it would be Tony Finau down at the bottom of the list.  Finau has great course history at Quail Hollow and actually has the 6th most DK Points per round over his past 27 rounds at Quail Hollow and two correlation courses.  He's playing some great golf at the moment with a T5 in his last outing at the RBC Canadian Open, along with a T27 at The Open and a T7 at the Greenbrier to start July.  Finau will be popular, but rightfully so.
Target: Tony Finau $7000
$6000 Range
Like Finau, Molinari has a great history at Quail Hollow type courses with the 9th most DK points per round in this field.  He is flying under the radar at the moment, which means you will likely be able to get him at a very low ownership, while it seems like he's also finding his game at the right time after shooting a 69 and 65 in the final two rounds last week at the WGC-Bridgestone to salvage a T24 finish.  I like where Molinari's game is at right now and the fact that he likes this style of course makes him a great value play at $6800.
Target: Francesco Molinari $6800
If you are looking to bet on the winner of the tournament check out my 4 outright winner picks and how to bet guide here.
Tagged With : DraftKings • PGA Championship • PGA Championship fantasy • PGA Championship targets