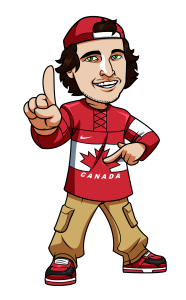 Welcome to my site, SportsBettingCanadian.ca!  As you have probably guessed I'm a Canadian who is a huge sports fan and an avid sports bettor.  After betting on sports for many years I noticed that there really wasn't an online authority on sports betting for Canadians.  Having a solid background in the betting industry and experience building other sports betting websites, I decided to take it upon myself to create the ultimate sports betting information site for Canadian bettors!
Here at Sports Betting Canadian all of the information is written by me and tailored towards Canadian sports bettors.  I've included a section dedicated to the various provinces and their government run sports lotteries, a betting guide with articles for both beginner and advanced bettors, information about betting on the most popular Canadian sports, a complete section on horse race betting in Canada and a thorough guide to all of the deposit options available to Canadians.
Current Articles
Top Sportsbooks for Canadians
Almost every sports betting site online accepts Canadian bettors, which leaves quite a choice for Canadian sports bettors.  Here at Sports Betting Canadian I only wanted to promote the very best online betting sites, so I waded through all of the different information and found what I feel are far and away the best 3 sportsbooks for Canadian bettors.  These betting sites are each committed to growing their brand in the Canadian market and offering a great product to Canadians for years to come.  Each of the sportsbooks tailor their sportsbooks and banking options to Canadian residents and even offer exclusive bonuses and promos to Canadian bettors.  The sportsbooks are all safe, secure, trusted and respected in the industry with great customer service teams that make sure you enjoy your online betting experience.
Each of the reviews for my 3 recommended sportsbooks are written with the Canadian sports bettor in mind.  I suggest opening an account at each site to take advantage of the bonuses, but check out the reviews if you're just looking for one sportsbook at the moment.