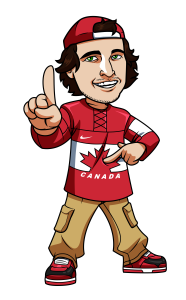 **William Hill is NOT one of our four top rated betting sites for Canadians. I have delisted them from our Reviews section. **I left this page up because it was getting traffic, but I have delisted William Hill from our review section and am not actively promoting the brand.
When you sign up for a William Hill account you are given the option to enter a promotional code on your registration form. This has caused confusion for some people in the past because it's natural to want to make sure you get the best deal possible.
I wanted to make this page to walk you through what you should enter in that "promo code" field in order to get the best bonus available for Canadians at William Hill.
Right now William Hill is offering new Canadian sign ups a $100 Welcome Bonus. Follow the few steps below to ensure you qualify in the easiest way possible.
Step By Step Guide To The William Hill Promo Code
Following these steps will ensure that you receive the $100 Welcome Bonus from William Hill:
Step 1: Close your current William Hill sign up window. This will allow you to be tracked through us when you sign up your account.
Step 2: Visit William Hill through THIS LINK.
Step 3: Fill out the form and enter CAD100 in the 'Promotional Code' field.

Step 4: Make your first deposit at William Hill. Your first deposit amount will be instantly matched by William Hill for any amount up to $100. **If you deposit more than $100 you will still receive the $100 bonus.
Welcome Bonus Terms
There are a few simple terms associated with the $100 Welcome Bonus, but it's safe to say it's one of the most player friendly bonuses in the sports betting industry.
You must be a resident of Canada.
You must open your account in Canadian Dollars.
You must rollover your bonus + initial deposit 4 times to clear the bonus.
You have 90 days to clear the rollover requirements.
These rollover requirements may look a little scary, but they are actually very easy to clear if you bet normally. Say you deposit $100, which would mean you would have to clear $800. If you bet $10 per day you will clear the bonus with 10 days to spare!

The rollover requirements are only in place to prevent people from immediately withdrawing their bonus. If you plan to actually bet on William Hill then you will have absolutely no issue clearing this requirement.
What If I Signed Up Without Entering a Promotional Code?
If you signed up without entering a promotional code you're still in luck. You just made things a little harder on yourself because you'll have to chat with customer service for a few minutes in order to get your bonus. I suggest using the Live Chat feature at the William Hill website and telling the customer service representative that you are a Canadian who forgot to enter the CAD100 promo code when signing up, but would still like to receive your $100 welcome bonus.
This actually happened to me and although it took about 10 minutes to get through the red tape of confirming my account, there was no issue with getting the bonus added.

I hope this page cleared up any questions you had regarding the William Hill promo code. To learn more about William Hill as a sportsbook check out our review.