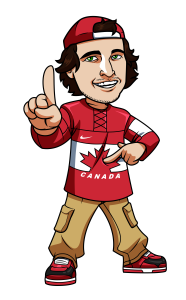 Win, place and show bets are the standard bets that you will typically make when betting on a horse race. These standard bets are very simple to understand and only require one horse to perform to a certain level, which is in contrast to exotic bets where you need multiple events to happen in the same race. Because you are only relying on one horse the payouts are much smaller with win, place and show bets than exotic wagers, but you also hit winners more often.
Top Horse Racing Sites
1

See Website For Details

Licensed and regulated in Canada
Easy deposits & withdrawals including Interac
Competitive betting lines

Bet Now Review

2

#Ad

Most popular betting site worldwide
State of the art live betting platform including streaming of several events
Fixed odds for horse racing

Bet Now Review
Win Bets
When you bet on a horse to win the race he must do just that. A win bet is a wager on a horse to finish the race in 1st place. If you're watching the race and you see your horse finish in second I still suggest that you check the official race results because a disqualification could bump your horse up into first. It's rare to be pleasantly surprised like this, but you're better safe than sorry.
Place Bets
A place bet is a wager on the horse finishing in either first or second (the payout will be the same regardless of if the horse wins or places). The place bet generally won't pay out as much as a win, but you have double the chances of your place bet winning because you are paid out for two finishing positions instead of just one. If your horse loses by a nose you will be happy that you took the place wager instead of betting on him to win.
Show Bets
A show bet pays out if your horse is one of the first three finishers (the payout is the same regardless of if the horse finishes 1st, 2nd or 3rd). Again, the show bet will typically pay out less than a win or place bet, but you will cash more often because your show bet will payout if your horse finishes 1st, 2nd or 3rd. Once again, for all of the above bets I suggest you check the official results after the race to see if there were any disqualifications or photo finishes that you didn't see correctly.
Should You Bet Win, Place or Show?
The popular thought is that if you think the horse is going to finish first you should be on the horse to win because you will generally receive a bigger payout than from the place or show wagers. Keeping with the same thinking if you want to take a long shot it may be smarter to take a place or show bet because you give yourself a better shot at cashing if the horse runs a strong race. That said, I personally think it's sometimes advantageous to take place or show bets on big favourites, especially for high profile races such as the Kentucky Derby or any races with large media attention. This is because most regular horse betting fans will think they need to bet the horse to win in order to get any real kind of return. What this results in is fewer place or show bets on the highly favoured horse. When this happens it means that the difference in winnings between the win, place or show bets on the heavy favourite will be minuscule or possibly non-existent. A great example of this was during the 2014 Preakness Stakes race when California Chrome was a huge 1/2 favourite by the time the race began. He did end up winning the race, which allowed us to see the win, place and show payouts for California Chrome on the race:
Win paid $3.00
Place paid $3.00
Show paid $2.40
This shows that the people who bet on California Chrome to place won just as much money as those who bet to win. The difference is that those who bet Chrome to place would still have been paid out if he finished second, while those who bet him to win would have been out of luck. From this example I think a good rule of thumb would be to bet heavy favourites to either place or show because the general public will generally be betting them to win. In horse racing it's always advantageous to go against the popular consensus because if people are betting the same way as you they will be taking a cut of your winnings. For this reason I suggest you go against the grain. Bet big favourites to place or show and don't be afraid to bet long shots to win or place either.