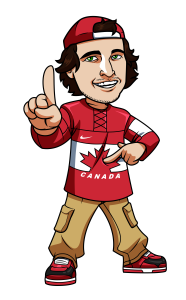 A great way to pad your sports betting bankroll right out of the gate is by taking advantage of the bonuses offered by online sportsbooks. Online sports betting is a competitive industry and for this reason sportsbooks have to entice players to bet at their site. One way sportsbooks do this is by offering sign up bonuses to new players. They will also often offer loyalty bonuses, special promotional bonuses and reload bonuses as well, that should be taken advantage of by smart bettors.
Step By Step Bonus Scalping Guide For Canadians
I recommend three online sportsbooks here at Sports Betting Canadian so I decided to put together this step by step guide to taking advantage of the bonuses offered by each of these sportsbooks. I will start with the easiest to clear bonus and point you in the right direction through signing up at each site to get the sign up bonuses and taking advantage of their other bonus options as well.
For this step by step guide you will be starting with $200, and I will be considering you a break even sport bettor, which means you win 52.38% of bets made at odds of 1.91 (the regular pick'em odds).
Bet365 offers a 100% bonus up to $200 on first deposits.  Make sure you enter the offer code that was sent to you when you signed up in order to receive this bonus.  You will now have to play through your deposit amount once before your bonus is available for use.  You will then have $200 in bet credits added to your account.
Your return on wagers with the bet credits will only be the winning amount (not the stake), so if you win half of your bet credit wagers at even odds you will end up with $100 in winnings, and $300 in your account. There are no rollover requirements for your bet credit winnings, so you can withdraw your original $200 and keep $100 on Bet365.
**Because bet credits don't return the stake amount it is better to use the bet credits on outcomes with high odds and large potential winnings. This would increase your expected value on the bet credits. That said, this increases variance so for the purposes of this guide we will say you are making bets at even odds. 
Sports Interaction offers a 100% bonus up to $200 on Canadian first deposits.  The bonus will immediately be added to your account, but you must bet through the entire $400 amount 10 times ($4000 of bets).  A break even bettor should have $400 in Sports Interaction after this bonus is cleared. Withdraw $200 to deposit at Bodog.
Bodog offers a 100% bonus up to $200 on your initial deposit. The bonus dollars will immediately be added to your account and available for use, but the bonus dollars + deposit will be subject to a 5X rollover. This means you must bet through $2000 in order to clear the bonus. A break even bettor should now have $400 in your Bodog account.
3. Further Bonuses and Compare Odds
You're accounts should now be as follows:
Bet365 – $100
Sports Interaction – $200
Bodog – $400
This means you will have already profited $500 and also created 3 sports betting accounts that you can use to compare odds in the future.  At this point you can withdraw some of your funds from Bodog in order to add some funds to Bet365.
With the multiple betting accounts, you should be able to turn a small profit even if you are just betting at your breakeven rate from a single sportsbook. This is because the odds will vary between the betting sites and you will be able to bet at the sportsbook with the most favourable odds.
**Check out the review pages for more detailed information on the bonus offerings of each of these betting sites.
After Completing The Sign Up Bonuses
After you have taken advantage of all of the sign up bonuses I also suggest that you keep your eyes open for other types of bonuses at the site.
For example, Bet365 will often offer money back specials for high profile games, while Bodog will offer promotions where you can earn free bets.
All of the sites will also offer reload bonuses from time to time. Even if you have money in the account I still suggest you take advantage of the reload bonus offers. If you bet enough you will clear the reload bonus betting requirements without even noticing. You can then go ahead and withdraw the amount you deposited to gain the maximum bonus and you'll have padded your betting bankroll by the bonus amount without any risk.
***You must be 18+ to sign up with any of these sites and terms/conditions do apply to each bonus.