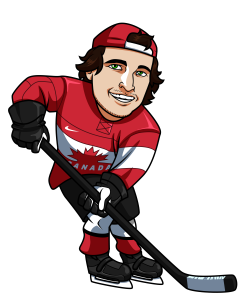 Many people overlook lineup construction in daily fantasy hockey and just pick the best value players at each position.  This is a fine strategy for 50/50 or head-to-head contests, but if you're looking to win a big GPP you need to take into account some positive and negative correlation plays when constructing your lineup.  GPP strategy is different in that you're looking for your lineup to absolutely go off to finish atop the leaderboard, and this doesn't necessarily mean you should be picking the best value players at each position.
Negative Correlations
There's really only one main negative correlation when it comes to selecting your NHL lineup….
Goaltender and Players from Opposing Teams
It may be obvious, but I had to include this negative correlation in the article.  Never pick players from the team that is playing against your goaltender.  If your players perform well then your goaltender will have a bad game and vice versa.  If you make this mistake you're pretty much guaranteeing that you won't win the contest you're entering.
Positive Correlations
To put yourself in the best position to win some of the bigger GPP contests, you have to pay attention to positive correlation plays.  Most of these positive correlation plays revolve around the fact that there are usually 2 assists on every goal, so picking players who will be in on each others goals is helpful because they will often have good games at the same time.
Players On The Same Line
According to QuantHockey.com there's an average of 1.7 assists per goal in the NHL this season.  This means when a goal is scored there is generally more than just the goal scorer who benefits from a fantasy point perspective.  For this reason, it makes sense to pick players from the same line in you GPP NHL contests.  If that line scores a few goals there's a very good chance that each player on the line goes off for a big game in daily fantasy.
For example, if Tyler Seguin has 3 goals in a game, there is a very good chances that Jamie Benn has a couple points in the game as well.
Players On The Same Powerplay Unit
The same is true for players on the same powerplay unit.  I prefer to take players who are on the same line and the same powerplay unit because then there is a very good chance the players will be on the ice and the same time, which increases the possiliby of positive correlation fantasy points.
I generally like to pick my defensemen based on powerplay units.  At even strength it's more difficult to ensure positive correlation between defensemen and forwards, but on the powerplay you have a better idea of which defensemen will play with which forwards.
I use LeftWingLock.com to check line combinations before setting my lineups each night.
Goaltender and Players from Same Team
I generally like to my goaltender to be on the same team as one of my team player stacks.  This is because if my players go off for a big game, there is a very good chance my goaltender will at least get the win, which is half the battle at the goaltender position.
A team that is losing will also often take more low percentage shots, as they push to get back in the game.  This can result in my goaltender racking up saves late in the game, after my player stack has already performed.
My Usual NHL Lineup Stacks
I generally build my lineup in a very specific way.  Here's my normal NHL lineup stacks:
One line + goaltender from team A.
One line + power play defenseman from team B.
Highest value defensemen remaining from one of the other games on the night.
The reason for this lone defenseman is that DFS sites require your players to spread at least 3 teams.