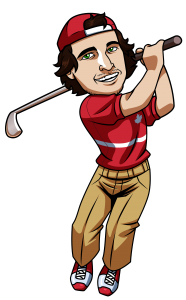 I added a WGC Mexico outright winner betting picks article yesterday.  I wanted to draw your attention to that article because I will be targeting many of the same players on DraftKings as I picked in that article so check it out!
I'm going to go through the various levels of DK pricing and give my favourite play at each level below.  This is a no cut event, which I'm not really a fan of because I like the Friday sweat, but more of your lineups will have a chance come Sunday in this format.  DraftKings.com is running a massive $500,000 Pressure Putt contest with $400 entry fee for any high rollers out there and some solid $475k and $450k guarantees for the $33 and $3 entry fee tourneys respectively.
Let's get into it.
Over $10,000
At this level I was between Jordan Spieth at $11,500 and Henrik Stenson at $10,300.  If you read my betting picks article you'll know I like both of these players on this track.  I'm going to end up leaning towards Spieth here because I don't think the high price tag is very scary when you factor in all of the great plays in the $7000 range.  Spieth has great form heading into this tournament and he should give himself lots of birdie opportunities thanks to his great approach game.  If Spieth can get the putter working like he knows how he has a shot to go very low on this course.
Target: Jordan Spieth $11500
$9,000 Range
There are only four players in this $9000 range and my favourite play at this level is Adam Scott for $9,200, slightly ahead of Justin Rose at $9600.  Scott has been playing very well and even though he didn't win last week after heading into the tourney as the favourite he still played very solid and consistent golf.  Scott is a better putter on poa annua greens and his iron game is one of the best in the business which should result in lots of birdie opportunities.  Scott is also a very good wind player and being so high up we could see some gusty conditions this weekend.
Target: Adam Scott $9200
$8,000 Range
I'm very high on Tyrrell Hatton in this range this week.  Hatton had a very solid week at The Honda Classic and showed he can perform in North America.  He's also hitting all of the stat categories I'm looking for this week with him having a very solid approach game and some of the best putting in the world.  He could be high owned this week, but rightfully so.  His form is stupendous and it's only a matter of time before he breaks through with a big win on this side of the pond.
Target: Tyrrell Hatton $8300
$7,000 Range
There is an absolute ton of value and options in the $7000 range.  It's very difficult to pick just one golfer in this range, but if I'm being forced to then I'm going right to the bottom and taking Bernd Wiesberger at just $7100.  Wiesberger is quietly having a very solid season in Europe and is coming off a 3rd place finish at the Maybank Championship a couple weeks back.  He is one of the best ball strikers on tour and although his putting is sub par it's slightly better on poa annua greens, which could result in a solid showing.
Wiesberger is an inexpensive option that I'm going to have a lot of this week.  I also expect him to be relatively low owned considering all of the talent and big names in this range.
Target: Bernd Wiesberger $7100
$6,000 Range
Vegas is going to be very popular at $6,600 after his shot up the leaderboard at the Honda Classic on Sunday, but I'm personally going to be targeting more of Danny Willett.  It was just a few boneheaded mistakes that kept Willett from making the cut last week at the Honda and if he had I think he could have shot up the leaderboard.  Willett has a strong iron game and he has the ability to perform well at these strong field events.  His game looks like it's just about to turn the corner heading towards the Masters.  He's also ranked 11th on the European Tour in birdie or better percentage, which should give upside even if he does make a few mistakes.  If he can eliminate the mistakes he has the game to make a run at winning this tournament.  He's a steal at his price point this week.
Target: Danny Willett $6700
***I do want to draw your attention to the weather in Mexico City.  It could play a significant factor this week with rain a possibility for the weekend.  Be sure to keep tabs on the weather to see if there is the potential for one of the flights come Thursday and Friday.