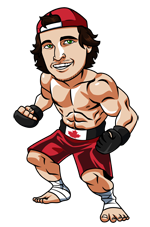 DK is running some solid contests for UFC 219.  There is a big $10 contest with $125,000 guaranteed and $20k to first place, as well as several other contests with money to be made.
It's also the final card to qualify for the Fight to the Finish promotion.  I already have my 3 entries, so I won't be able to win any more qualifiers, but I hope to see some of you in the contest in the coming weeks.
Click here to set your DraftKings.com lineup for UFC 219.
Check out our daily fantasy MMA section for some tips that will help you construct a solid lineup.
Top Targets
Target #1 – Matheus Nicolau ($8900)
If you checked out my betting picks for this card, you'll notice that Nicolau is my favourite play of the week.  This is also true in DraftKings.
I expect Nicolau to absolutely destroy Smolka, and I think he will do so in a fashion that racks up DK points.  Smolka is a great scrambler, so he may be able to get to this feet after Nicolau takes him down on more than one occasion.  Eventually though, I think Nicolau will end up in a solid position and go to work with his BJJ black belt to get the finish.
Smolka was the opponent who Tim Elliott put up 176 DK points against.  He's an action fighter, who is easy to takedown, but is strong in scrambles.  His fights are perfect to target in DK, and this is no different.  I expect Nicolau to get the better of him and rack up enough points to be in the winning lineup, while likely going under the radar because he's only $200 cheaper than Nurmagomedov, and $100 cheaper than Elliott (who has that 176 DK points on his score card).
Target #2 – Khabib Nurmagomedov ($9100)
I think you also have to have a lot of exposure to Khabib based on his upside.  If he's able to get this fight to the mat he will rack up points.  He scored 120 DK points against Michael Johnson and that was after getting rocked in the first round and only scoring two takedowns in that fight.  He's so active with vicious ground and pound that he racks up strikes and advances on the mat.
Barboza could knock him out, but I don't think it's likely.  The much more likely outcome is Khabib is able to chain wrestle Barboza to the mat and keep him there for 5 minutes while doing work.
Target #3 – Cris Cyborg ($9300)
I'm not quite as high on this main event as usual, but if Cyborg wins, which she should, I still think she will score 100+ over 5 rounds.  Holm will try to run and fight at distance, so I'm not convinced that Cyborg will be able to unload a bunch of big strikes and get a finish like she does against weaker opponents.  That said, if Cyborg gets this fight to the mat she will be able to go to work with ground and pound, and likely finish the fight.  Even if this fight stays on the feet, I think she will outwork Holm and get a decision victory if she doesn't land a knockout blow.
Over 5 rounds, even if Holm runs for the majority, Cyborg should still have a decent floor, and she will always have a great ceiling.
Target #4 – Tim Elliott ($9000) or Mark De La Rosa ($7200)
Elliott is another guy who always seems to be in high DK point fights.  Whether he wins those fights is another thing.  Yes, he owns the DK record of 176 points in a 3 round fight, but he's still only 3-6 in the UFC and he's never beaten anyone of note.  De La Rosa is definitely a live dog in this fight and I will have more exposure to him than I do Elliott.
De La Rosa actually looks like a very solid fighter.  This is a huge step up in competition, but he looks like he has the ability to be a UFC fighter.
Whoever wins this fight should score highly.
Target #5 – Carlos Condit ($8500) or Neil Magny ($7700)
Lastly, I'm looking at Condit vs Magny as another fight to target.  I either think Condit gets a finish with some vicious strikes or Magny outlasts Condit, stealing rounds with takedowns while racking up a decent amount of DK points at $7700.
I personally will have more Magny because I need to save salary somewhere, but I think Condit is still a great play that will likely be low owned.
Ready to set your lineups?  Click here to visit DraftKings.com.
Tagged With : Cris Cyborg • DraftKings UFC • Holly Holm • UFC 219 • UFC fantasy