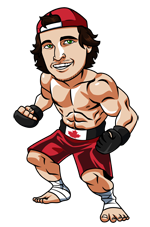 UFC 217 is the biggest UFC card of the year, but unfortunately DraftKings isn't treating it as such.  The $8 contest which has been $200,000 guaranteed for some previous PPV events is only a $100,000 guaranteed for this card.  I expect it to fill before Friday.  The other contests such as the $4 20-max or the $33 also don't have as big of prize pools as they should.  The prize pools are about half the size of previous lesser UFC events.  It's a missed opportunity from DraftKings, but there is still plenty of money to be won and this is a card with some great opportunities both from a value standpoint and from sheer output from some title contenders.
Click here to set your DraftKings.com lineup for UFC 217.
Check out our daily fantasy MMA section for some tips that will help you construct a solid lineup.
Top Targets
Target #1 – Joanna Jedrzejczyk $9200
Joanna's output is absolutely ridiculous over a 5-round fight.  She outdid herself in her last outing against Andrade, landing 225 significant strikes to score 143 DK points in the decision win.  She's now broken 100 points in each of her 5 title defenses, while scoring 97 points in when she initially won the title from Esparza, primarily because she got the second round finish so she couldn't continue to rack up the points.
Joanna's is the safest play on the board and you know she's going to have a strong output in this one.  I don't think she finishes Rose either, which is actually good in this case because it gives her 5 rounds to work.  She's going to be going in and out, doing damage for 25 full minutes to give us a ton of DK points.  I will likely have her in every one of my lineups.  There's enough value in the lower price tags that there is no reason not to roster Joanna.
Target #2 – Georges St. Pierre $8100
GSP has been out of action for four years, but if you look at his stats from his title reign, he is the perfect DK fighter, especially over 5 rounds.  Getting 10+ takedowns in a fight was not crazy for GSP, while also adding a ton of advances and strikes as well.  He's an extremely active fighter who doesn't really finish, which is actually what you're looking for in title fights nowadays.
Here are GSP's point totals on DK using today's scoring system:
96 vs Hendricks
134 vs Diaz
125 vs Condit
83 vs Shields
105 vs Koscheck
198 vs Hardy
159 vs Alves
136 vs Penn
187 vs Fitch
144 vs Serra
Those are just ridiculous point totals.  If you think GSP is going to win, which I do, you need to roster him at just $8100.  Even if GSP loses a decision he could still pay off that price.
Target #3 – Curtis Blaydes $8000
Now we're on to the first mispriced fighter on the card.  Blaydes has odds of 1.25 to win this fight, but DK priced him as the underdog at only a price tag of $8000.  If you've seen his fights you know that Blaydes is an absolute beast, who has only lost to Francis Ngannou in the UFC before putting 3 wins together.  He didn't have his best performance last time out against Omielanczuk, but if he can avoid the submission against Oleinik he should win this fight.  Blaydes may keep this standing to avoid the ground game with Oleinik, but he still has a great chance to get a knockout and if he does decide to go to the mat he has some great ground and pound, which should keep Oleinik on the defensive while Blaydes works towards a TKO.
I will have plenty of Blaydes, but he will be high owned and there is a chance he keeps this fight standing en route to a safe victory, so there may be reason to keep him out of a few lineups.
Target #4 – Randy Brown $7800
Brown is another fighter slightly underpriced.  He's in a pick'em fight with Mickey Gall and comes in as the underdog.  That said, we still don't really know what to make of Gall.  Yes, he was able to get his first real MMA win over Sage Northcutt, but he was the far bigger fighter and landed a somewhat lucky punch that led to him taking Sage's back and finishing the fight.
Brown is a far better ground fighter than Sage and he should have the advantage on the feet in this one.  I see Gall as being a very hittable guy standing and if Brown can stuff the takedowns he should be able to control and dominate this fight.  I'm expecting a finish from Brown in this one.  He has odds of 2.66 inside the distance, and at this price tag he's great value to allow you to get Joanna in your lineup as well.
Target #5 – TJ Dillashaw
You need to target the title fights on a card like this and although Dillashaw doesn't have great value against the odds, I personally think he wins this fight, so I'm willing to take him at a $7900 price tag.  TJ is an extremely active fighter and although Cody is very hard to hit, if TJ pushes the pace I think he will get the better of Cody while putting up a big DK score.
TJ scored 115 points in just 3 rounds against Lineker in his last fight and if he is able to get Cody down, which should be part of his game plan, he could rack up quite a few points in this fight as well.
For those of you who like Cody, he's a solid play as well at just $8300.  I will have some Cody in my lineups as well, but I'm going to have significantly more exposure to Dillashaw.
Ready to set your lineups?  Click here to visit DraftKings.com.
Be sure to also check out my betting picks for each of the big fights on this card.
Tagged With : DraftKings • Georges St. Pierre • GSP • Michael Bisping • UFC 217 • UFC fantasy