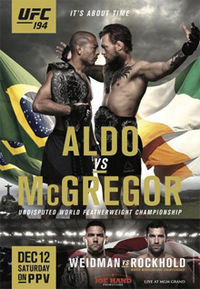 This is the card that I've been waiting for since watching McGregor knockout Chad Mendes from a few seats up at UFC 189.  I went to that event expecting to watch Aldo vs McGregor.  I'm not complaining because the main event fights on that card were absolutely ridiculous, but the Aldo vs McGregor fight was what we were most interested in.  Add in the other title fight between Weidman and Rockhold, as well as a few other huge fights on the main card and I'm counting down the days until Saturday.
DraftKings is running a $5 entry $200,000 guaranteed contest for UFC 194, with first place taking home a healthy $20k.
Click here to set your UFC 194 lineup….
In this article I'm going to be rating every fighter on the card on a scale of 0-3 stars based on how much value I see in them based on their DraftKings price.  These ratings are for the GPP contests at DraftKings.com, so fighters who have the ability to finish will have a higher rating than those who might grind out a decision.  I've also created a video outlining DraftKings UFC strategy, so check that out first and you'll better understand my reasons for the rankings.
Here's a
DraftKings review
if you're new to DFS (daily fantasy sports).
McGregor vs Aldo
Conor McGregor $9900**
Jose Aldo $9500**
I personally am having a really hard time handicapping this fight for myself.  McGregor has a better chance to finish the fight, but if Aldo dominates for 5 straight rounds en route to a decision win he could really rack up the points as well.  I'll likely have about 50% exposure to each of these fighters among my lineup in order to have the main event hammer at the end of the night.  Whichever way I see the fight going (McGregor getting the KO or Aldo dominating for the entirety) I think the winner of this fight will have a large amount of DK points when it's all said and done.
Rockhold vs Weidman
Luke Rockhold $9400**
Chris Weidman $10000**
This is another fight where I will likely have fairly even exposure to both fighters across my lineups.  It's a 5 round fight, so the winner will have plenty of opportunities to rack up points.  I also think there is a very good chance we see a finish in this fight.  The odds indicate Weidman has a 37% chance at finishing, while Rockhold has a 27% chance at finishing.  DraftKings doesn't change the fighters prices based on the fact they are in a 5-round fight, so it's usually a good idea to have one of the fighters from these battles.
Romero vs Souza
Yoel Romero $9200*
Jacare Souza $10200**
I prefer Souza in this fight.  He's being given odds of 2.74 to finish at 5Dimes.eu, which is about a 36% chance to finish.  I actually think he has a better chance than that to finish Romero, who in my opinion lost to Kennedy via TKO at UFC 178 after taking an extra minute on the stool between rounds.  That said, Romero can knock out his opponent from a lot of places (like he showed swinging for the fences via Kennedy).  I don't mind having Romero at a decent discount and looking for that knockout finish.
Maia vs Nelson
Demian Maia $10100
Gunnar Nelson $9300*
I really like Gunnar Nelson in this fight, but I'm not sure how much I will be rostering him.  At his price he will definitely find his way into a lot of my lineups, but the fact that both of these guys are such high level jiu-jitsu fighters, this could turn into a grappling match that won't rack up a lot of points.  The only way it would pay off to have either of these fighters in your lineups is if they get an early finish.
That said, I think Gunnar is the best bet on the card at odds of 2.25 @ Bet365.com.  I already have quite a bit of action on Nelson in a straight up bet and he will make it into a few of my DK lineups as well based on his price.
Holloway vs Stephens
Max Holloway $10,900***
Jeremy Stephens $8,500
I love Max Holloway in this spot.  He currently has odds of 2.6 (38% chance) of finishing this fight and I fully expect him to finish.  He's a great striker who will rack up significant strikes as well (he lands a ridiculous 5.67 strikes per minute).  For this reason, if he doesn't get the finish I think he will rack up points.  He's definitely a cash game play and I think he's also very strong in the GPP's.
Faber vs Saenz
Urijah Faber $11000*
Frankie Saenz $8400
If you can afford to pay up for Faber this is a great spot to do it.  I just don't think Frankie Saenz has much of a chance in this fight.  The oddsmakers have Faber with a 45% chance to finish (2nd to McGregor on the card) and the odds of 1.143 to win make him the biggest favourite on the card.  I'm not quite as high on Faber in the cash games because he doesn't land a ton of strikes in his fights, but I could definitely see a submission after outworking his opponent.
Don't pay down for Saenz.  There are better spots.
Jones-Lybarger vs Tecia Torres
Jones-Lybarger $8700
Torres $10700
I won't be touching this fight.  I just don't see either of these girls getting a finish.  Torres may rack up quite a few strikes en route to a decision victory, but in terms of upside for that price tag she just doesn't have it.
Covington vs Alves
Colby Covington $9800
Warlley Alves $9600*
At these prices I can see Alves sneaking into my lineups a few times.  He's being given odds of 3.25 to finish the first (31%) vs 4.23 (24%) for Covington.  So the $200 that you save on Alves and the better odds to finish make him the better play in this spot.  Neither guy lands a ton of strikes though, so I'll most likely not have a ton of either guy in my lineups.
Santos vs Lee
Leonardo Santos $8600
Kevin Lee $10800**
Kevin Lee is a guy I may try to get into my cash game lineup, but he will likely only be in a few of my GPP lineups based on his price.  He's the second biggest favourite on the card, next to Urijah Faber, and he can throw his hands (3.70 strikes per minute), which is always a plus in DraftKings.  He has odds of 2.75 to finish his opponent as well, which makes him great value if you can afford to pay up to his price.
I won't be touching Santos though either because I see better places to pay down in the low $9000's.
Mustafaev vs Proctor
Magomed Mustafaev $10600**
Joe Proctor $8800*
Once again I like paying up for a fighter, with Mustafaev having odds of 2.50 (40%) to finish the fight.  He has finished every one of his MMA fights in his career.  To be honest I don't know a lot about Mustafaev, but he will make his way into some of my lineups based on these odds.  Just looking at his record he knows how to do damage (his last two wins were via doctor stoppage) and one of his wins came via a powerbomb finish.
Medeiros vs Makdessi
Yancy Medeiros $9100**
John Makdessi $10300**
The Canadian, John Makdessi, is back in the Octagon after his loss to Donald Cerrone, which broke his jaw, back May of this year.  His style always gives a good chance at a finish, and the odds back this up with odds of 2.57 (39%) to finish.
Yancy Medeiros is also a pretty good value for his price and as you can see I like a lot of the higher priced fighters, so this could be a good spot to pay down.  Medeiros has odds of 3.7 to get the finish (27%), which is great value at $9100.  Both of these guys are very high volume strikers and I'm confident that whoever wins this fight will have done so while racking up some points.
I'll probably have more Medeiros in my lineups, but this fight will feature throughout.
McGee vs Alexandre Junior
Court McGee $10400
Marcio Alexandre Junior $9000*
Here is another decent spot to pay down.  Alexandre Junior has odds of 4.06 (25%) to finish the fight, and for $9000 that makes him a great value play.  He's not a high volume striker, but he does have finishing power and if I want to get Makdessi into a few lineups, this is one way to do it.
Ready to set your lineups?  Click here to enter the $5 UFC 194 contest at DraftKings.com.
In conclusion, I will have 1 fighter from both of the title fights in all of my lineups.  I'll also likely have Romero or Souza in a lot of lineups, as well as Makdessi or Medeiros.  Those four fights I'm keying on both fights.  After that I love Max Holloway at $10,900.  I will have some exposure paying up for Faber and Mustafaev, but probably not a ton, while also paying up for Kevin Lee and paying down for Alexandre Junior.
Tagged With : Daily Fantasy MMA • DraftKings • UFC 194