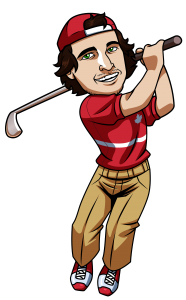 First of all check out my 6 outright winner picks for The Players Championship this week.  There's a bit of overlap, as to be expected.
The Players isn't a Grand Slam so there will be no Milly Maker at DraftKings.com this week, but they are running a $600,000 Drive The Green contest with a $4 entry and $100,000 to the winner.  There is plenty of money to be won at DK this week.
Over $10,000
Any worries about DJ's game returning from the back injury that kept him out of The Masters were put to rest with a solid showing at the Wells Fargo last week, where DJ came oh so close to taking his win streak to 4, but instead had to settle for a second place finish to Brian Harman.
Put simply, DJ is on another level than everyone else on Tour this year.  He's elevated his game to the point where it's basically his tournament to lose every time he tees it up.  He doesn't have great course history, but his confidence is still sky high and I expect him to perform this week.
Target: Dustin Johnson $12,000
$9000 Range
A lot of people will be targeting Jon Rahm in this range, which might allow Fowler to be lower owned than I feel he should be.  Fowler has quietly had an extremely stellar 2017 that includes a win at The Honda Classic and 5 other finishes within the top 16 within his last 6 tournaments.  Rickie won this tournament two years ago and it seems to me he is playing much better this season.  Look for Rickie to be in contention on Sunday.
Target: Rickie Fowler $9,300
$8000 Range
At the top of the range I do like Justin Thomas, but my favourite target is down towards the bottom of the range and it's a guy who I think may be overlooked in Russ Henley.  When he is on his game he can strike the ball with the best of them and he's always been one of the best putters in the game.  He won the Shell Houston Open this year and has continued his strong play with 11th and 26th finishes at The Masters and the RBC Heritage.
Henley did miss the cut at The Players last year, but he had a sub par season as a whole in 2016.  In the previous two years he finished 24th and 17th so he does have the ability to go low at this course.  I expect him to be fairly low owned because he might be a tad higher priced than some will be willing to dish out for Henley, but he has the ability to win this tournament.
Target: Russell Henley $8,200
$7000 Range
Speaking of guys who have the ability to win, look no further than Matthew Fitzpatrick.  He missed the cut in his last outing at the Heritage, but I just don't think his head was in the game that tournament.  He's now had a few weeks to recharge and should be at his best for The Players.
Outside of the RBC Fitzpatrick has solid form and I think he is great value for a guy with his ability.
Target: Matthew Fitzpatrick $7000
$6000 Range
Hadwin is another guy who has the ability to go low.  He had a rough outing in his last tournament, but the weather was horrible at the Valero Texas Open so I'm not reading too much into his 10 over third round.  If he has his approach game down he is one of the best putters in the world and should be able to roll plenty in for birdie this week.
Hadwin is the type of guy I love to roster at DK because he can get hot and run off those birdie streaks which can really help his DK score.  At this price Hadwin will be popular, but rightfully so.
Target: Adam Hadwin $6800
Tagged With : Players Championships • The Players • The Players betting