The third major of the season is set to take place this weekend at St. Andrews golf course in Scotland.  All of the best golfers from both the PGA and European Tours will be in the field this weekend and the main storyline is Jordan Spieth attempting to continue his road to the Grand Slam of golf by winning the third major of the season.
DraftKings.com is running a Millionaire Maker Fantasy Golf contest for the event with $1,000,000 in cash going to the first place finisher.  There's a total $3M in prizes from this one contest, but you really want to finish first for life changing money.
I've done a lot of research to build my core for the DraftKings.com Millionaire Maker contest and I'm going to share my findings with you.  These 6 golfers are my favourite picks for the upcoming Open Championship.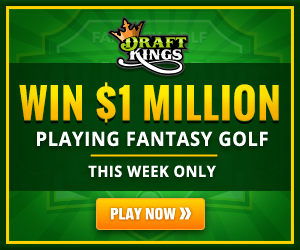 Jordan Spieth – $12,000
In order to win the $1,000,000 first prize you absolutely must have the winner of the tournament in your lineup.  The way Spieth is playing he's a big favourite heading into St. Andrews.
Bet365.com has him listed at odds of 7.00 to win the tournament, which is a big favourite among this star-studded field.  Add in the fact that the course is playing soft, which should play right into Spieth's hands and I think you have to take Spieth on at least some lineups.  The kid has ice water running through his veins and he's shown this year that he knows how to win tournaments having won 4 total, including the first 2 majors.
Rickie Fowler – $9700
Fowler is great value at $9700.  DraftKings had the prices for the contest set before last weeks tournaments, which saw Fowler win the Scottish Open last week.  That adds to his PLAYERS Championship win to show that Fowler has arrived.  He has always been a threat for these majors with top 5 finishes at every major last year, but The PLAYERS win showed he can win the big tournaments.  He's playing great and I think he could be a very big threat this week.
Bet365.com has Fowler as the third favourite for the tournament at odds of 19.00.  Considering he's just the 8th highest priced player at DraftKings.com you know he's a great value play for the money.
Shane Lowry – $8100
Lowry is the 16th ranked golfer according to the odds at Bet365.com (41.00), but DraftKings has him as the 19th highest priced golfer.  That right there shows that he has good value.
I feel the Irish golfer is a perfect mid-price target.  He finished -5 at the Scottish Open last week and finished tied for 9th at last years Open Championship.  He's trending in the right direction and I think this could be break out tournament for Lowry.
Branden Grace – $8100
Grace is another $8100 golfer that I have on a lot of my teams.  He's shown he can play in the big events when he finished in 4th place at the US Open a month ago.  He followed that up with a 17th place finish at the Scottish Open last week, shooting a -7.  Grace is knocking on the door and I think he has as good a shot as many of the top golfers to win this tourney.
He has odds of 46.00 at Bet365.com, which shows the $8100 is great value.
Tommy Fleetwood – $7300
Fleetwood might be my favourite play of all.  At $7300 he is an absolute steal.  He has odds of 71.00 at Bet365.com, which makes him their 23rd favourite according to the odds.  He's the 39th highest priced golfer at DraftKings.com.  Just a steal.
He finished with a -8 last week at the Scottish Open and he's been trending very nicely.  He's made the cut in his last 6 tournaments and he's playing some great golf with top 30 finishes in his last 5 outings.  Two weeks ago he finished in 11th at the BMW International Open.  It's just a matter of time before he has a break through and wins a tournament this year.  It could be the Open Championship.
Danny Lee – $6400
Here is another example of a players price that is way off because they set the prices very early.  Lee won the Greenbrier Classic two weeks ago and followed that up with a third place finish at the John Deere Classic last week.  He's one of the hottest golfers in the world and you can get him at an absolute discount.  I expect him to continue his strong play into The Open.  He's just playing too good to not be in the mix come the weekend.
So there you have it.  My 6 favourite plays for the DraftKings.com Millionaire Maker this weekend.
Entries are only $20 and you could become the latest instant Millionaire from Daily Fantasy Sports.  Click here to visit DraftKings.com and set your lineup.

Tagged With : Jordan Spieth • Open Championship