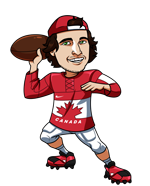 Super Bowl prop bets are some of the most fun you can have while watching the big game.  My friends and I have a props sheet contest at our Super Bowl party each year and it adds a lot of excitement.  We haven't had a big contest here at Sports Betting Canadian since the Mayweather vs McGregor fight and what better event to host a big contest than the Super Bowl.
For Super Bowl 52 we've joined up with Sports Bet Listings to run a Super Bowl props sheet contest for Super Bowl 52.  There will be 15 simple props with two options to choose between that you can quickly answer to join the contest and have your shot at the $750 prize pool.
How To Enter
Enter your email below and I will send you the list of 15 props for Super Bowl 52 and where you should enter your picks to be entered into the contest.
[optin_box style="7″ alignment="center" email_field="email" email_default="Enter your email address" integration_type="aweber" double_optin="Y" list="4384579″ name_field="name" name_default="Enter your first name" name_required="Y" opm_packages=""][optin_box_field name="headline"]Here's The Headline For The Box[/optin_box_field][optin_box_field name="paragraph"]PHA+TG9yZW0gaXBzdW0gZG9sb3Igc2l0IGFtZXQsIGNvbnNlY3RldHVyIGFkaXBpc2NpbmcgZWxpdC4gRG9uZWMgdmVsIG51bmMgbm9uIGxhY3VzIHZlbmVuYXRpcyBjb21tb2RvLjwvcD4K[/optin_box_field][optin_box_field name="privacy"]We value your privacy and would never spam you[/optin_box_field][optin_box_field name="top_color"]undefined[/optin_box_field][optin_box_button type="0″ button_below="Y"]Gain Access to Contest![/optin_box_button] [/optin_box]
The contest email should arrive in your inbox within a few minutes.
***If you don't see it check your  'Junk', 'Promotions' or 'Spam' folders.  The email sometimes gets flagged.***
Once received follow the instructions within the email with where to enter your picks and join the contest.
Prizes
There will be $750 in prizes to be won.  The prizes are paid out in prepaid cards or cryptocurrencies that are meant to be used for online sports betting in the future.  Here is how the prizes break down:
1st place – $200
2nd & 3rd – $100
4th & 5th – $50
6th-15th – $25
**The prices are paid in Canadian dollars, but anyone from around the world is eligible to enter.
Scoring
Like I said above there are 15 props that you will have to give your picks for.  The props will all have two options (yes/no, over/under, etc) making them easy to quickly answer.  You will receive one point for each correct pick.
Terms
Only ONE entry per person.  If I think you've attempted to join the contest more than once all of your entries will be void.
Entries must be in before kick-off on Super Bowl Sunday.  No exceptions.
Prizes are paid out in Canadian dollars.
In the case of ties I will try to split the prize between the tied participants if possible.

The lowest prize payout will be $25.  If there are more than 10 entries tied for a $25 prize, I will do a draw to see which entries win the prizes.
Enter Your Email To Receive The Props Sheet
Enter your email below to receive the props sheet and instructions on how to join the contest.
[optin_box style="7″ alignment="center" email_field="email" email_default="Enter your email address" integration_type="aweber" double_optin="Y" list="4384579″ name_field="name" name_default="Enter your first name" name_required="Y" opm_packages=""][optin_box_field name="headline"]Here's The Headline For The Box[/optin_box_field][optin_box_field name="paragraph"]PHA+TG9yZW0gaXBzdW0gZG9sb3Igc2l0IGFtZXQsIGNvbnNlY3RldHVyIGFkaXBpc2NpbmcgZWxpdC4gRG9uZWMgdmVsIG51bmMgbm9uIGxhY3VzIHZlbmVuYXRpcyBjb21tb2RvLjwvcD4K[/optin_box_field][optin_box_field name="privacy"]We value your privacy and would never spam you[/optin_box_field][optin_box_field name="top_color"]undefined[/optin_box_field][optin_box_button type="0″ button_below="Y"]Gain Access to Contest![/optin_box_button] [/optin_box]
Tagged With : Super Bowl 2018 • Super Bowl 52 • Super Bowl Contest • Super Bowl Props Sheet