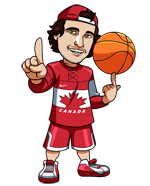 We're back with our annual March Madness contest for the 2018 NCAA Tournament.  This year there will be $600 in prizes to be won, but everything else is the same as last year.
I love filling out March Madness brackets and I scour the internet every year to find every free or value added bracket contest I can enter (you can find my comprehensive list here).  My contest includes all of the best features of the brackets I enjoy.
You fill out your bracket and earn points if your teams win games throughout the tournament.  The number of points for each correct pick increases each round and I'm also throwing in a curve ball that I will get into in the point structure section below.
At the bottom of this page I outline how to earn up to 3 entries into the bracket, so be sure to read to the end.
Prizes
Before reading further I'm sure you want to know what you can win.
The prize pool will be $600 in cash/cryptocurrency prizes meant for betting online.  There will be 6 places paid.
1st place – $200 voucher for betting on sports online.
2nd and 3rd – $75 for betting online.
4th – 6th – $50 for betting online.
**All prizes are in Canadian dollars.
Points
Here's how you earn points in the bracket:
1st round wins = 1 point
2nd round wins = 3 points
Sweet Sixteen wins = 5 points
Elite Eight wins = 7 points
Final Four wins = 9 points
National Championship = 12 points
***There will also be bonus points equal to the upset seeding differential in each round.  For example, if a #10 seed beats a #7 seed in round 1 that team will earn 4 points (1 +3) for that win.
Having been in brackets with this format before I will say that the bonus points are extremely important, so be sure to avoid a completely chalk bracket because that likely won't get you the win.  The upsets coming through for you is a ton of fun and it can earn you big points in this format.
Entering
I will be running the contest through Office Pool Junkie once again.  Click here to join.
It's a solid site that only requires your name and email to create an account, and the bracket is very quick and easy to fill out.
***Please read how to earn entries.  Any entries that aren't accounted for via one of the following three methods will be void.
Every person is allowed up to 3 entries.  In order to earn these entries I ask that you follow us on social media and sign up to our newsletter.
Entry 1. Like the Sports Betting Canadian Facebook page.  Click the 'Like' button below to follow us on Facebook.
Comment in the pinned post (I embedded it above) on our Facebook page with the handle of your first bracket entry.
Entry 2. Follow me on Twitter.
Join our #Free #NCAATournament #MarchMadness #Bracket

Details here: https://t.co/Ai1Km3ueVk

$200 top prize, 6 places paid.

Reply with your handle to verify your Twitter entry. pic.twitter.com/havsGyQynK

— Niko SBC (@BettingCanadian) March 12, 2018
Follow me and reply to the pinned contest tweet with the handle of your second entry.
Entry 3. Join our newsletter by entering your email below.  You can unsubscribe at any time following the contest if you don't enjoy our content.
Reply to the Welcome email with your third handle.   ***If you're already subscribed simply reply to any past email with your third handle.
Remember to comment on the contest posts on Facebook or Twitter with your bracket handles to confirm entry.
****3 entries per person by completing the entry requirements above.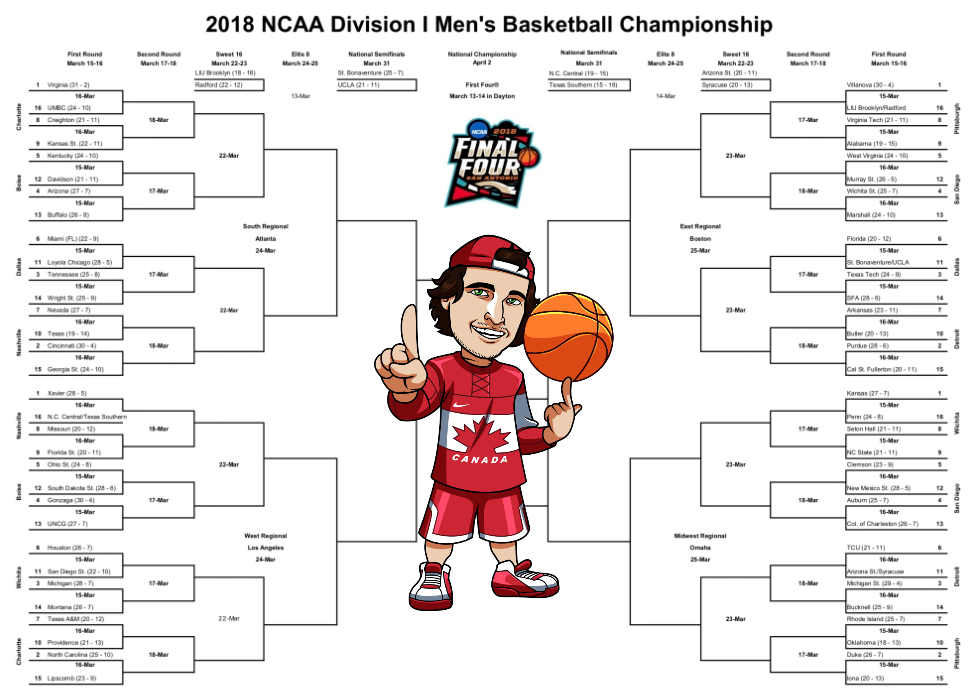 Tagged With : March Madness Bracket • NCAA Bracket • NCAA March Madness • NCAA Tournament bracket