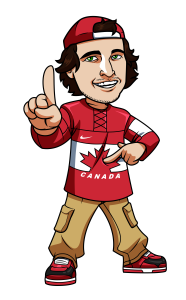 Beach volleyball is always one of my favourite sports to watch during the Summer Olympic Games.  Canada usually has some decent teams, but we are generally not favourites, and 2016 is no different.  On the Men's side we have two teams in the 24 team draw with Saxton and Schalk having the better odds of the two to medal, with odds of 125/1 to get the gold according to Bet365.com.  The other team of Binstock and Schacter will be happy to just be competing at the games and any success will be gravy.  Their odds are 200/1 to win the tournament.
The Women's tournament also features two Canadian teams, but we have a much better chance at a medal on the Women's side.  Heather Bansley and Sarah Pavan are the 6th favourites according to Bet365.com with 25/1 odds to win the gold medal.
Men's Beach Volleyball Odds
Here are the odds for favourites in the Men's tournament from Bet365.com:
Alison – Bruno Schmidt (BRA) 11/4
Lucena – Dalhausser (USA) 3/1
Brouwer – Meeuwsen (NED) 6/1
Nummerdor – Varenhorst (NED) 9/1
Solberg – Oliviera (BRA) 11/1
Samoilovs – Smedins (LAT) 12/1
Gavira – Herrera (ESP) 18/1
Saxton – Schalk (CAN) 125/1
Binstock – Schacter (CAN) 200/1
There are the odds for the 7 favourites in the beach volleyball tournament, as well as the two Canadian duos.  The Brazilian teams are always a massive threat in beach volleyball at the Olympics and playing on home soil should definitely give both of those teams a big push.
Women's Beach Volleyball Winner Odds
Larissa – Talita (BRA) 2/1
Ross – Walsh Jennings (USA) 2/1
Ludwig – Walkenhorst (GER) 5/1
Agatha – Barbara (BRA) 11/2
Meppelink – Van Iersel (NED) 14/1
Pavan – Bansley (CAN) 25/1
Broder – Valjas (CAN) 300/1
The Canadian duo of Sarah Pavan and Heather Bansley are the sixth favourites at 25/1, but they are in tough with Larissa/Talita, and defending champion Kerri Walsh Jennings back at the Olympics with a new partner in April Ross (who Walsh actually beat in the finals of London 2012) as co-favourites at 2/1.
My Picks
On the Men's side, I like Solberg and Oliviera at 11/1 to win this tournament.  They're in a tough group with the top Latvian side of Samoilovs and Smedins, as well as the Canadian team of Saxton and Schalk that has shown on tour this season to be a very difficult out, but playing on home soil I think really like the second Brazilian side.  They won the Swiss leg of the Swatch Beach Volleyball Tour in early July, beating Lucena and Dalhausser convincingly in the finals, and also beat Nummerdor and Varenhorst en route to that title.  The pair skipped the most recent Tour event, so I expect them to be ready heading into Rio.
They did lose to Bruno/Alison in the previous tournament to their win, but it was a 2 set to 1 loss and I really think that match is a coin flip between the Brazilian heavyweights.  At 11/1 I love the odds on this duo.
Play: Solberg – Oliviera (BRA) 11/1 @ Bet365.com
On the women's side, I'm leaning towards the Brazilian duo of Larissa and Talita, who are the favourites in the tournament along with Ross and Walsh Jennings of the USA.  These two teams have battled it out twice in the past couple months, with the Americans winning their first match 2 sets to 0 in the bronze medal match in Germany, and the Brazilians winning the more recent match 2 sets to 0 in the gold medal match of the Tour event in Switzerland, which is the last Tour event either team participated in.
The Brazilians seem to be peaking at the right time and I think they will make it a clean sweep for the Brazilians in beach volleyball in Rio.
Play: Larissa – Talita (BRA) 2/1 @ Bet365.com
Other Beach Volleyball Betting at Olympics
Bet365.com is also offering 'To Win Pool' and 'Total Points' futures wagers on the Rio Olympics beach volleyball tournaments.
For example, Schalk and Saxton are 20/1 to win their pool, that includes both my pick to win the tournament in Solberg – Oliviera, as well as the top Latvian team of Samoilovs – Smedins.
On top of these futures bets you can bet on every single match from the 2016 Rio Olympics Beach Volleyball tournament.
To find the Beach Volleyball betting lines, click on 'Olympics 2016' and then 'Beach Volleyball' at the Bet365.com website.
Here's an example of the betting line for a match between Canadians Binstock and Schafter and the Brazilian favourites of Alison and Bruno:
Good luck with your bets and check out our Olympics section for more prediction posts during these Rio Olympics.
Tagged With : beach volleyball • beach volleyball betting • Olympics beach volleyball • Rio 2016 beach volleyball