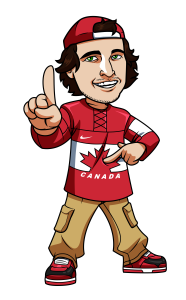 The Prince of Wales Stakes, the second leg of the Canadian Triple Crown, takes place this Tuesday evening at Fort Erie Racetrack in Ontario.  The post time for the race is approximately 7:40pm EST.
The Prince of Wales Stakes is by far the biggest and most prestigious race hosted by Fort Erie Racetrack each year and they're expecting close to 10,000 patrons squeezing into the track this Tuesday evening.  Queen's Plate winner, Wonder Gadot, is running in the race and will be the favourite out of the post position with odds of 7/5.  Unfortunately, Wonder Gadot's trainer Mark Casse has already stated that Wonder Gadot will not compete in the Breeders' Stakes even if she has a chance at the Canadian Triple Crown, so regardless of the outcome we will have to wait at least one more year before a new Canadian Triple Crown winner emerges.
You have to go back to 2003 with Wando to find the last Canadian Triple Crown winning horse.  That said, no horse since Wando has even followed up their Queen's Plate victory with a win at the Prince of Wales Stakes, so getting this win would still be quite the feat for Wonder Gadot.
Top Prince of Wales Stakes Betting Site in Canada
2018 Prince of Wales Stakes Morning Line Odds
Below you can see the morning line odds for the Prince Of Wales Stakes.  You should remember that your bet is not fixed at these odds and the odds will change throughout the day depending on the amount of money bet on each horse.  Check out our parimutuel betting page for more on the horse race odds format.
Wonder Gadot 7/5
Absolution 6/1
Cooler Mike 4/1
Home Base 8/1
Aheadbyacentury 5/2
Eskiminzin 12/1
As you can see, Wonder Gadot is the favourite, but Aheadbyacentury, who finished second at the Queen's Plate is also being given a great shot at the win.  Cooler Mike, who finished third at the Queen's Plate, is the third favourite.
Here's a video of the 2018 Queen's Plate where you can see Wonder Gadot hold off Aheadbyacentury and Cooler Mike down the stretch. **This was the best quality video I could find
I'm personally going to be tossing down a few dollars on Wonder Gadot at 7/5.  She just looked too good at the Queen's Plate.  There are levels to horse racing and I simply don't see any of these other five horses touching her in this race.  Wonder Gadot was the favourite heading into the Queen's Plate, while Aheadbyacentury and Cooler Mike both overachieved with their finishes.  Wonder Gadot should win this fairly easily on Tuesday.  That said, I'm not horse racing expert, so be sure to do your own research.
How To Bet On 2018 Prince of Wales Stakes in Canada
If you're new to betting online here's a quick 3 step guide to get your bets in on the Prince of Wales Stakes this Tuesday.
Sports Interaction is our top rated sportsbook for many reasons.  First of all, they have my favourite racebook in the entire industry.  The layout and style make it extremely easy to find the race you're looking for and quickly place your wagers.  On top of this they only accept Canadian residents, which means they are able to focus entirely on making their site completely geared towards Canadians, which makes the deposits and withdrawals better, the betting options more focused and more.
If you sign up through one of our links you will also be entitled to a 100% up to $200 bonus on your first deposit.
Click here to visit SportsInteraction.com and open an account.
#2. Deposit
As I mentioned above, Sports Interaction only accepts Canadians.  This has enabled them to completely focus on providing Canadians with the best deposit and withdrawal options available.  You can learn more about some of the deposit methods here.
I want to stress that Sports Interaction offers this 100% up to $200 bonus only for first deposits.  It's very rare that they will offer any reload bonuses, so I suggest you take advantage of this great offer.
#3. Time To Bet
Click on 'Racebook' in the navigation bar on the Sports Interaction website.  Next select 'Canadian Thoroughbred' in the left sidebar in the Racebook.  This will drop down a menu that includes Fort Erie Racetrack.  Select Fort Erie Racetrack and then select the race with a post time of 7:38pm.  This will be the Prince of Wales Stakes.
Here's a screenshot showing where the track will be listed.  In the screenshot it only shows Woodbine and that's because when I wrote this article there were no races taking place at Fort Erie Racetrack.  The track will show up on race day.
Once at the Prince of Wales Stakes race you can place straight, exacta, trifecta, etc bets.  If you're new to horse race betting you should check out our horse racing bets page to learn more about what the different wagers mean.
And be sure to check out our dedicated Prince Of Wales Stakes betting page for more detailed info about the race.
Ready to bet?  Click here to visit SportsInteraction.com.
Tagged With : bet on Prince of Wales Stakes • Fort Erie Racetrack • Fort Erie Racetrack betting • Prince of Wales Stakes betting • Prince of Wales Stakes Canada