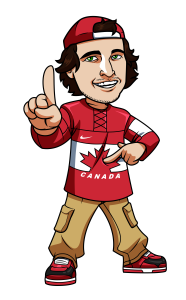 **Check out our updated version of this article here…
The Breeders Cup (official website) is coming to Santa Anita Park on November 4th and 5th.  It's the final big horse race betting weekend of the year and it brings out all of the top horses from the season, eager to be crowned champion of the year end event.
Those of you who watched the Woodbine Mile earlier this fall will know a horse named Tepin, who won the Mile in Toronto and is now competing against the best horses in the world in the Breeders Cup Mile, which is scheduled to take place just before prestigious Breeders Cup Classic on Saturday afternoon.  In the Classic you have some massive names in the horse racing world running in the race, including 2014 Kentucky Derby and Preakness Stakes winner California Chrome and this years Kentucky Derby winner Nyquist.
With 13 races with purses of a minimum $1,000,000 taking place at the 2016 Breeders' Cup it's the perfect time to sit back and bet on horses for a weekend.
Bet On 2016 Breeders' Cup – Guide
#1. Open An Online Betting Account
First things first.  You're going to need to open an account with an online betting site that will take bets on the Breeders' Cup.  I recommend Bodog.eu for Breeders' Cup betting.  They have a very clean and easy to use Racebook for betting on the day of the race, and they also already have futures lines up for every race at this years Breeders' Cup.
Bodog only accepts Canadian residents, which allows them to fully cater their sportsbook to the needs of Canadian bettors.  They also offer a 100% up to $200 bonus for new Canadian sign ups, which will give you some extra cash to bet on the horses at the Breeders' Cup.  Here's a full review.
Click here to open an account with Bodog.eu.
#2. Deposit
Once you've opened your account you will need to make a deposit in order to have cash online to bet on the horses.  I suggest depositing $200 or more to take full advantage of the 100% sign up bonus offered by Bodog.
Bodog currently accepts Visa, MasterCard or Bitcoin deposits.  Check out our deposit options page for more information about the various deposit and withdrawal methods available at Bodog.
#3. Place Your Breeders' Cup Bets
You're now ready to place your bets!  If you'd like to bet on the races before race day you can do so in the Bodog Sportsbook.  Simply select 'Horse Racing Futures and Props' from the left sidebar in the 'Sports' section of the Bodog website to bring up all of the futures odds for Breeders' Cup races.  Here's a screenshot of the Breeders' Cup Classic odds (these odds may change daily):
California Chrome is a big favourite to win the race ahead of this star-studded field.
Race Day Betting
To bet on the horses on Race Day, you will need to head over to the 'Horses' section of the Bodog website.  To do so go to the Bodog homepage and then click the purple 'Horses' link in the left sidebar.
Next you should click on the 'Today's Tracks' drop down menu and select 'Santa Anita Park'.  This will bring up another drop down menu similar to the screenshot below (the times may be different).
Select the race you want to bet on and place your wagers.  The betting screen will look something like this (this is an example from a previous days race):
If you're new to betting on horses be sure to check out our horse race betting info section to help you get started.  I do want to stress that when betting on horse races the day of the parimutuel betting system is used, which means you're not locked in at the odds you bet at, but instead the odds float depending on the amount of money wagered on each horse.
That's it!  Ready to bet?  Click here to visit Bodog.eu.
Tagged With : Breeders' Cup • horse race betting • Horse Racing