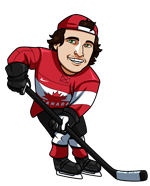 Wayne Gretzky and Alexander Ovechkin will be taking their talents to the Xbox One to battle it out in a best-of-three series playing NHL 20. The series will be broadcast live on the Washington Capitals Twitch account and both players will have a partner, which will make for some two on two game play.
Gretzky will be teaming up with his son Tristan, while Ovechkin is bringing in the big guns with esports pro John Casagranda stepping in to help out. With Ovechkin being more of gamer than Gretzky, and him getting to bring in one of the best NHL 20 players in the world, you have to think Ovi has a great chance to get this win.
On this page I will outline how you can bet on this Gretzky vs Ovechkin series if you live in Canada or the United States.
Bet On Gretzky vs Ovechkin NHL 20 Showcase – 3 Steps
Step 1. Open an Online Betting Account
First you will have to join an online betting account that accepts players from your country of residence and is taking bets on the Gretzky vs Ovechkin showcase.
CANADIANS: Bodog.eu is our recommended betting site for Canadians interested in betting on the game. Bodog has odds available for the match in the 'Hockey Specials' section of their site, and they are one of our top 3 rated betting sites for Canadian players.
Sportsbook
Features
Bonus
Rating
Bet Now
AMERICANS: Bovada.lv is our recommended betting site for USA residents. They are the American facing sister site of Bodog, with Bovada being the most popular online sportsbook currently serving the United States market.
**For the remainder of this guide I will be using Bodog for all of my examples, but the instructions will be very similar for the Americans who joined at Bovada.lv.
Click the link above for your countries sportsbook, click the 'Join' or 'Bet Now' link on the landing page and fill out the sign up form on the home page to open your account.
Step 2. Deposit
After logging into your account click on the 'Deposit' link under your accounts silhouette drop down menu. Choose your preferred deposit method and follow the instructions to fund your account.
Both Bodog and Bovada accept Visa, MasterCard, bitcoin and direct bank transfer deposits.
Step 3. Place Your Bets
It's time to place your Gretzky vs Ovechkin bets.
Click 'Sports' from the top menu bar and select 'Hockey' from the list of sports in the secondary menu.
Open the 'All Hockey' drop down menu and select 'Hockey Specials'.
Select who you want to bet on (Ovechkin or Gretzky).
Enter your risk amount on the Bet Slip and click 'Place Bets' to lock in your wager.
Here's a screenshot showing some of the clicks, as well as the odds for the game (taken on April 20th):
Ready to bet?
Canadians click here to visit Bodog.eu.
Americans click here to visit Bovada.lv.
Tagged With : Alexander Ovechkin • NHL Betting • Wayne Gretzky