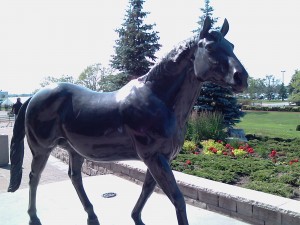 The Northern Dancer Turf Stakes is a 1.5 mile race for thoroughbred horses held every July at Woodbine Racetrack in Toronto.  The race carries a purse of $300,000 and is named after Northern Dancer, Canada's most famous racehorse.
Woodbine Entertainment does take bets on the Northern Dancer Turf Stakes at the racetrack, but if you unable to make it out to the tracks you can also place bets online through BetOnline.ag, our recommended betting site for the race.
Where To Bet On The Northern Dancer Turf
Sportsbook
Features
Bonus
Rating
Bet Now
BetOnline.ag is our recommended betting site for the Northern Dancer Turf race. BetOnline is trusted betting site that is popular in Canada and takes bets on every race at Woodbine Racetrack throughout the year.
Click here to visit BetOnline.ag, select 'Join Now' on the landing page, and complete the form to open your account.
To bet on the Northern Dancer Turf, select 'Racebook' from the top menu bar of the BOL website, and select 'Woodbine' from the Canadian Thoroughbred drop down menu. Select the Northern Dancer Turf race #, select the type of bet(s) you want to place, enter your wagers, and click 'Place Bets' to confirm.
Check out our horse betting section for a detailed breakdown of the different bets on you can place on a race.
A Brief History
The Northern Dancer Turf Stakes has gone through several transformations over the years. The race was originally called the Niagara Handicap and it was first run on a dirt track at the Fort Erie Racetrack in 1953. The race was moved to Woodbine Racetrack in 1985 and has remained there ever since. It wasn't until 2006 that the race's name was officially changed at the Northern Dancer Turf Stakes was born.
Northern Dancer was a Canadian-bred racehorse that won the Kentucky Derby and the Preakness Stakes in 1964. As a 3-year-old he also won the Queen's Plate race in Canada. What really made Northern Dancer a famous racehorse was how he became the most famous and sought after sire in the 20th century. Check out Wikipedia for more on Northern Dancer.