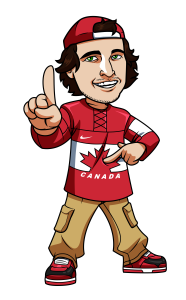 Fort Erie Racetrack is a popular thoroughbred racetrack in Fort Erie, Ontario. It's home to the Prince Of Wales Stakes race, which is the second leg of the Canadian Triple Crown.
This year the track has live races on Tuesday and Sunday afternoons and evenings from May until October. You can see the full Fort Erie racing schedule by clicking here.
Fort Erie Racetrack Betting Sites
Sportsbook
Features
Offers
Rating
Bet Now
Both of these great sportsbooks accept bets on the horse races run at Fort Erie Racetrack.
How To Bet Online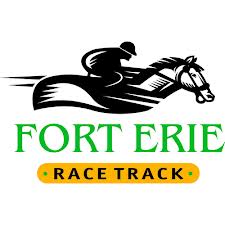 Here is a quick step-by-step guide explaining how to bet on Fort Erie horse races online.  I'm going to be using the Sports Interaction racebook for this example because I personally prefer the SIA racebook for betting on Fort Erie races.
1. Sign Up With Sports Interaction and Deposit
This is an obvious step so I'm going to keep it quick. You do have to first sign up for a Sports Interaction account before you can place bets with them. Click here to visit SportsInteraction.com and open a new account. It's quick and easy, and you only have to provide basic information to set up your account.
After opening your account you will need to deposit in order to have funds with which to bet on the races. To learn more about depositing at SIA check out our Sports Interaction review.
2. Go to the Sports Interaction Racebook
Betting on horses has it's own section at Sports Interaction. Click on 'Racebook' in the top navigation bar to bet on that day's horse races.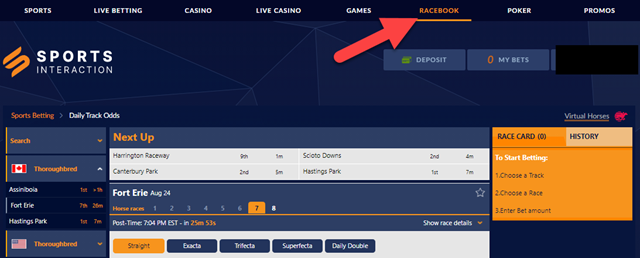 3. Choose the Fort Erie Racetrack
Now that you're on the Racebook page you will need to select the Fort Erie Racetrack. You will find it under the 'Canadian Thoroughbred' drop down menu in the left sidebar. Click Fort Erie to bring up the races at Fort Erie for the day.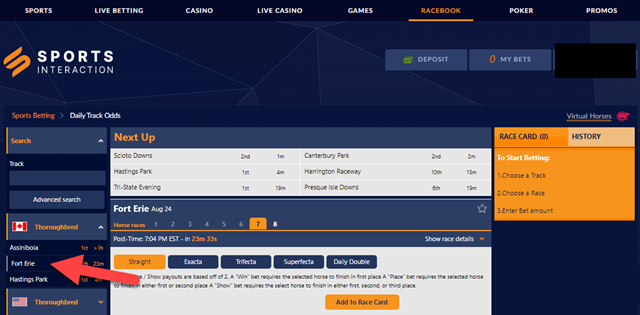 4. Select Race and Place Bets
Now that you can see the Fort Erie races for the day up on your screen you can go through and select which races you want to bet on. You can see the different horses and their current odds for each race, as well as the different bets you can place on each race (straight, exacta, trifecta, daily double, pick 3, etc). In the screenshot below I'm looking at the seventh race of a Tuesday at Fort Erie Racetrack. I have a bet of $20 on the favourite.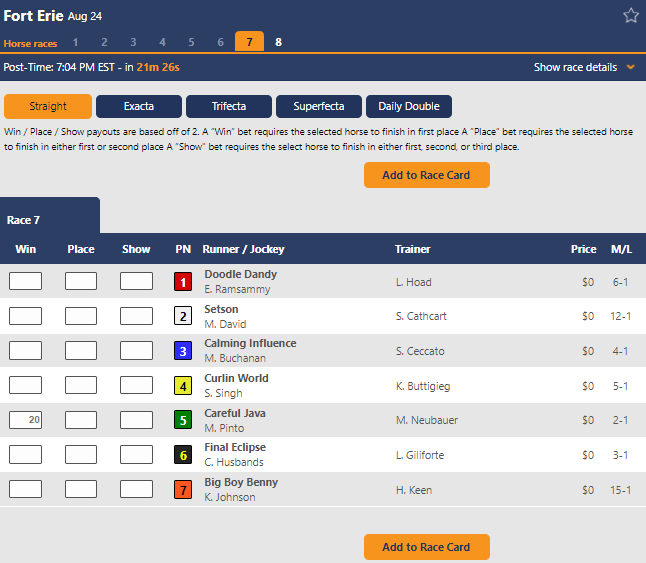 Mobile Betting on Fort Erie Horse Races
Both Sports Interaction has an awesome mobile betting platform that allow you to place horse racing bets from anywhere you can get an internet connection.  This would allow you to place Fort Erie horse racing bets from the track, while in front of the tv or even at the bar.  Just visit the SportsInteraction.com website on your mobile device, find the Racebook, select Fort Erie and place your bets.  Mobile betting is growing fast, especially for horse wagering, because it's by far the easiest way to place your horse racing wagers.
Major Races
Here are some of the major races that take place at the Fort Erie Racetrack throughout the year:
Location