Week 1 saw a lot of overlay in the big guaranteed prize pool tournaments at a lot of DFS sites, and with most sites offering the same prize pool tournaments I'm expecting more of the same for week 2.
For those of you who don't know, "overlay" refers to the difference in amount between the prize pool guaranteed by the DFS site and the amount of prize pool generated by player buy-ins.  Overlay is basically free money that the DFS site is adding to the contest, which makes a great value opportunity for players.
I'm going to go through a few DFS sites below and outline some of their bigger overlay contests from last week and then give my thoughts and whether I think there will be overlay again this time around.
$10,000,000 Millionaire Maker ($20 entry) – Week 1 entries 520,448/572,500 – $10,408,960/$10,000,000 – No Overlay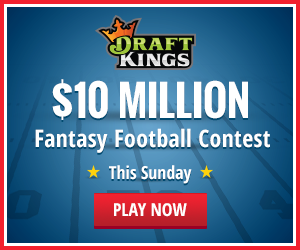 The Milly Maker at DraftKings last week actually did not have any overlay even though the contest was 50,000 entries short of filling up.  The Milly Maker has a margin of 12.7% when it fills up, so although DraftKings didn't make that margin on the contest, the did still make a small amount of cash.
That said, I'm expecting fewer entries this week.  DraftKings had their Week 1 contest up for over a month prior to week 1 which gave fans ample time to enter their lineup.  Combine that with the excitement of Week 1 and I think the number of lineups entered may go down this week.  I'll definitely have some entries in the Milly Maker once again.
All together DraftKings had $550,000 in overlay across all of the tournaments in Week 1.  I expect a similar amount this week.
New sign ups at DK get a 100% matching bonus up to $600.  Click here to claim.
$5,000,000 Sunday Million ($25 entry) – Week 1 entries 169,602/229,885 – $4,240,050/$5,000,000 – $759,950 overlay
FanDuel was beat pretty bad by DraftKings in week 1, as shown by their overlay in their big $5,000,000 Sunday Million contest.  There was close to $1,000,000 in overlay available in this contest and I expect more of the same this week.  FanDuel also had their Week 1 contest up for over a month before kick-off and with only 6 days to get entries this time around I'm expecting another big overlay for this contest.
FanDuel did have a lot of other big overlays in Week 1 ($1,400,000 in overlays in total), but it looks like they've dropped down their guarantees in a lot of the other contests.  This could push more entries into the Milly Maker as well, so if you're looking for value make sure to keep track of how many entries are going into the big contests come Sunday morning.
New sign ups at FanDuel get a 100% matching bonus up to $200.  Click here to claim.
StarsDraft.com *****EDIT**** StarsDraft does not accept Canadian players
*****I completely forgot that last week StarsDraft decided to no longer let us Canadians join the site.  So if you are Canadian, which I expect most of you are, skip this portion of the article.  I will leave it up for any Americans that stumble across this page though because these are great value overlays.
NFL $100,000 First Down ($10 entry) – Week 1 entries 5,199/11,250 – $51,990/$100,000 – $48,010 overlay
This was a massive overlay tournament last week, with only about half of the prize pool paid for by players.  I actually hit big with one lineup at StarsDraft last week and took down 6th place in this contest for a nice payday.  I'll be in this contest again this week in a big way because even though I'm not expecting quite as big of an overlay, there is still great value.
NFL $50,000 Lombardi ($100 entry) – Week 1 entries 405/565 – $40,500/$50,000 – $9,500 overlay
This wasn't as huge of an overlay last week, but I'll take a close to 20% overlay any day of the week.  It also helps that the same lineup that got me 6th in the above contest helped me take down first place in this one!  It was a good Monday night.
New signs ups at StarsDraft get a 100% matching bonus up to $250.  Click here to claim.
NFL $250,000 Run & Gun ($25 entry) – Week 1 entries 4733/11,120 – $118,325/$250,000 – $131,675 overlay
This overlay is just massive.  Over 50% and I'm expecting more of the same this week.  Even if they do get a few more entries there is still going to be a big overlay in this contest.  FantasyDraft.com has some big financial backers who are very serious about making this DFS site one of the top in the industry.  I'm expecting them to have overlay on this tournament all year, so it will be worth it to put some money into this site and collect your winnings.
I don't have the numbers for their $12 entry $100,000 contest or the $5 entry $50,000 contest, but both definitely also had very big overlays last week and I expect more of the same.  They also run big $10 and $5 double ups that only filled about 3 quarters full last week, which gives you a 2 in 3 chance of doubling your entry.
New sign ups at FantasyDraft get a 100% matching bonus up to $600.  Click here to claim.
I've spread my Week 1 winnings around to several different sites looking to take advantage of overlays this week.  If this post gets well received I will have much more overlay information to pass on next week.  Right now, StarsDraft.com and FantasyDraft.com look to be great sites to take advantage of overlay.  I will definitely have more skin in the game this week.
Tagged With : Daily Fantasy Football • NFL Fantasy • Week 2