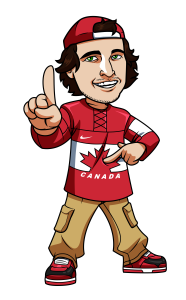 Canadians who sign up a new account at DraftKings.com are given the option to enter a promo code at sign up.  I've negotiated an exclusive promo code with DraftKings for our Canadian visitors.  This promo code will guarantee that you receive the best bonus available at DraftKings at the time of your sign up.
Canadians —> Enter 'CANADIAN' as your DraftKings promo code.
This promo code will make sure that you receive a 100% matching bonus up to $600 on your first DraftKings deposit + a free $3 entry into one of the main GPP contests for any sport.  If DraftKings is running a special limited time promotion at the time, this promo code will ensure that you receive the best possible bonus when signing up at DraftKings.
Step By Step Guide to the DraftKings Promo Code
Here's a quick step by step guide to make it as easy as possible for you to enter the correct DraftKings promo code when signing up a new account.
Step 1: Click here to visit DraftKings.com.  Select to 'Enter Contest' or 'Sign Up'.
Step 2: Fill out the sign up form and enter 'CANADIAN' in the promo code field.
Step 3: Make your first deposit in the DraftKings cashier.  You will receive a 100% matching bonus up to $600 on your first deposit.
****Depending on which route you took to sign up at DraftKings.com there are a few different layouts of the sign up form.  In some cases you may not even see a promo code field.  If this is the case, but you signed up through a link found here at SportsBettingCanadian.ca, don't worry, you will still be tracked as a visitor from Sports Betting Canadian and receive the top bonus offered at the time.
Clearing The DraftKings Bonus
The amount of your first deposit will be matched up to $600 and this amount will be placed in a pending bonus account.  Every time you play a DraftKings daily fantasy contest you will clear your bonus equal to 4% of the contest entry fee.  For example, if you play in a $20 contest you would clear $0.80 of your bonus and it would be added to your DraftKings balance.
For more information about signing up at DraftKings I suggest checking out our full DraftKings.com review.