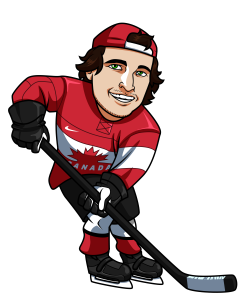 DraftKings.com has their big $100k Tuesday Special contest tonight ($20 entry) with $10,000 going to the first place finish.
Click here to check out the contest.
I generally build my lineups with two stacks and an outsider to satisfy the 3 team rule at DraftKings.  You can see more about my NHL lineup construction strategy here.
Seguin ($8700), Benn ($8400), Nichushkin ($3600), Klingberg ($5900), Lehtonen ($7000)
The Dallas Stars top line stack is my favourite one of the night.  It's a very expensive stack, but including Nichushkin who is playing on the top line with Benn and Seguin helps to bring the average price tag down.  Most of my lineups that feature this stack will either feature Nichushkin or Klingberg, but everyone will have Seguin and Benn who seem to feature on each others goals more the vast majority of the time.  I also like including Lehtonen in this stack because the Stars are the biggest favourites on the NHL slate tonight which makes Lehtonen a great bet to the get the win points.  I should note that Lehtonen is likely to start right now, but you should check back at LeftWingLock.com throughout the day to get the confirmation.
This stack will be highly owned, but I can't pass it up with the Stars at home against a Blue Jackets team playing their second of back to backs.  It's too perfect a spot.
Tavares ($7900), Okposo ($5900), Nelson ($4200), Leddy ($3700), Halak ($7300)
I've been using the top line stack from the Islanders quite a bit this season.  The Isles as a whole are on a tear right now and they could go off against a Panthers team that seems like they may be a bit under the weather with a couple main guys possibly out with illness.  Leddy is on the powerplay with this top line, which makes the four of them a decent stack.  I also really like the Isles to win this game, which is why Halak is a solid option as well.
Toews ($6000), Hossa ($5200), Teravainen ($4000)
I also really like this Blackhawks second line as a stack tonight.  They are often overlooked these days thanks to Kane's point streak, but this line can also go off at any point.  This line is just recently back together and they've had some success in the past.  The Avs allow a lot of goals so this lineup allows you to pay down for a decent Blackhawks stack.
Hall ($7300), Draisatl ($4700), Purcell ($3700)
With Purcell now on this line instead of Eberle it really brings the stacks price tag down and lets you include this line with some other top stacks.  The Oilers are playing their second of back to back games and they're on the road against the Rangers, both of which will keep other players off of this stack.  The fact that it was Eberle and the Nuge providing the offense last night will also keep this stack ownership low.  That said, I still think these guys could go off.  Hall and Draisatl combined for 8 points at home against the Rangers a couple games ago and the Rangers have been very poor of late, so they are susceptible to a big night from the Oilers.
So there are four of my favourite stacks for tonight's games.  Once again, click here to enter a lineup in the $100k guaranteed contest at DraftKings.  Good Luck!
Tagged With : DraftKings • NHL daily fantasy