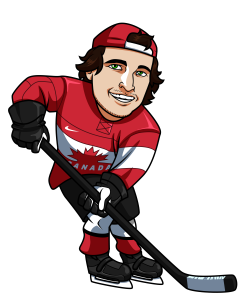 Alright, it's time for my first daily fantasy hockey targets post of the 2015-16 NHL season.  I'm going to try to get these type of posts up about once a week.  Likely when there is a large slate of games for that night and DraftKings has a pretty high prize pool NHL contest running that night.
Tonight, DraftKings has a $60,000 guaranteed NHL Sniper contest up and running with just a $3 entry fee.  The top prize is $4,000 so this is a great opportunity to win some big money while enjoying the NHL games tonight.
****DraftKings scoring.  It's very important to understand the scoring rules that DraftKings uses for daily fantasy hockey in order to be able to best build a winning lineup.  The daily fantasy hockey scoring varies dramatically between DFS sites, so just make sure that you know the scoring at whichever site you use.  You can check out our DraftKings vs FanDuel daily fantasy hockey scoring page to learn more, or I just created a YouTube video on this subject that you can check out here (give it a like if you get a chance).
Goaltender
Thomas Greiss – $6400
I think Greiss is a great value play in goal which can allow you to spend more at other positions in a GPP contest.  The Isles are the favourite in this game and they're playing a good Nashville team that lacks star power.  Last year the Preds took the third most shots in the NHL, but they had the 20th best shooting percentage at just 8.65%.  This makes playing Greiss here a great spot because he has a good chance of winning a game and still making a lot of saves.  Add in the fact that the Preds have only scored 5 goals in 3 games (not including empty-netters) and you can see why I like this spot for Greiss a lot.
Stack #1
Center – Evgeni Malkin – $6900
I like Malkin tonight against the Sens.  Ottawa is playing their second game in 2 nights and Andrew Hammond, who is returning from an injury, will be in net for the Sens.  I like Malkin to take it to another level tonight.  He is also killing penalties for the Pens this year, which ups his value at DraftKings.  Especially against a Sens team that has been known to give up shorties from time to time.
Winger – Patric Hornqvist – $5900
I'm pairing Hornqvist with Malkin tonight.  They play together at even strength and on the powerplay.  Hornqvist doesn't kill penalties but he's never seen a shot he doesn't like, which will help his DraftKings value.
Stack #2
Center – Tyler Johnson – $6000
Johnson can go off for a huge game at any time.  This game has the highest total of all games on tap tonight and the fact that Johnson is on the top powerplay and penalty kill makes him a DFS dream in my books.
Winger – Ondrej Palat – $4,800
Palat is the same as Johnson, but for a cheaper price.  He kills penalties and is on the teams top powerplay.  It's the perfect scenario and one that should be taken advantage of tonight.
Defenseman – Anton Stralman – $3,800
Stralman for this price is an absolute steal.  He is the top penalty killer with Hedman and it may come as a surprise to some of you, but it's actually Stralman, not Hedman who is on the teams top powerplay unit.  Stralman is a must play for me most nights.
So there you have it.  That's two stacks that I will be using in my lineups tonight.  There are still a few positions that I'll have to add, but I can't give my entire lineup away to you.  What if we end up in the same GPP :P.
Good luck in DFS hockey tonight guys, and don't forget to check out my new DraftKings vs FanDuel video for the scoring break down.
Tagged With : daily fantasy hockey • DraftKings • NHL daily fantasy