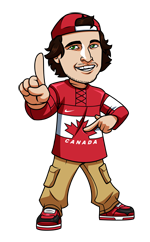 Litecoin is a peer-to-peer cryptocurrency that is very similar to Bitcoin in a lot of ways.  It is a safe, secure and transparent cryptocurrency that offers fast transactions and actually has lower fees than Bitcoin, making it the perfect cryptocurrency for deposits and withdrawals from your sports betting account.
Currently BetOnline is the only one of our recommended sportsbooks that accepts Litecoin deposits, but I do expect more sportsbooks to jump on the Litecoin train in the near future.
To learn more about Litecoin, check out the official Litecoin.org website.
Litecoin Sportsbooks for Canadians
Sportsbook
Features
Bonus
Rating
Bet Now
BetOnline.ag is currently the only sportsbook we promote that accepts Litecoin, so I will be using them in our step by step Litecoin deposit guide below.
Litecoin Deposit Guide
In this simple step by step guide I will take you through all of the steps to fund your BetOnline account with Litecoin. I'm going to be starting out assuming that you do not yet own Litecoin, so you can jump ahead if you do.
Open a Litecoin Wallet
First you will need to open a digital wallet to store your Litecoins. There are several Litecoin wallets to choose from, including many forms such as web wallets, mobile wallets and hardware wallets.
Check out this article on 99bitcoins.com for a complete guide to selecting a litecoin wallet, including the pros and cons of each wallet type.
Buy Litecoin
Now that you have somewhere to store your Litecoin once it's purchased you can go ahead and buy some. You can search online to find an exchange where you can buy Litecoin.
After buying your Litecoin, I suggest transferring it to your Litecoin wallet before sending it to BetOnline as a deposit.
Deposit Litecoin
Now that you have your Litecoin in your personal wallet you can go ahead and make your deposit at BetOnline.ag.
Once on the BetOnline website, click on the green 'Deposit' button in the top right corner.  Next you will need to select 'View More Deposit Options' to bring up the full list of deposit methods available under Bitcoin and Credit Card.  Select 'Cryptocurrency' then 'Litecoin' to be taken to the Litecoin deposit page.
Select your deposit amount and enter your promo code for the deposit and then select 'Deposit Now'. This will bring up the Litecoin deposit page, which you must follow to deposit the amount you selected on the previous page. Here's a screenshot of what to expect: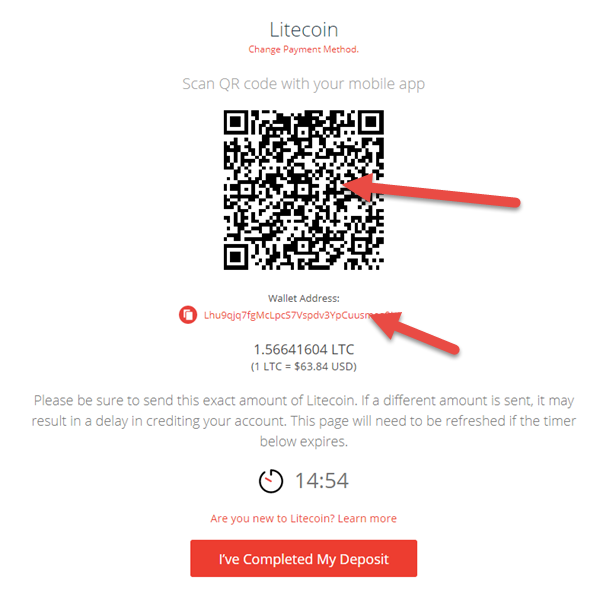 Next you should scan the QR code (for mobile wallets) or copy the wallet address (for web wallets). You can then proceed to send the exact amount of Litecoin displayed to the copied Litecoin address and click 'I've Completed My Deposit' to complete your deposit. The funds should show up in your BetOnline account within minutes.
Withdrawals
Litecoin withdrawals are just as easy as deposits. Simply select 'Withdrawal' from the Cashier section of BetOnline and select 'Litecoin'. You will then simply enter your Litecoin wallet address and the amount you with to withdraw. The funds will show up in your Litecoin wallet within minutes.