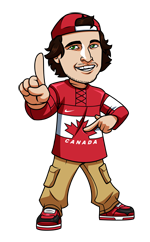 Ethereum is the second largest cryptocurrency in the world, next to Bitcoin. It's a very fast, secure and cheap payment option that is actually cheaper to transfer than Bitcoin and usually faster as well, while not having quite the same brand recognition as Bitcoin. Currently BetOnline is the only one of our recommended betting sites that accepts Ethereum deposits, but I expect more betting sites to add Ethereum as an option in the near future.
To learn more about Ethereum, check out the official Ethereum.org website.
Ethereum Sportsbooks for Canadians
Sportsbook
Features
Bonus
Rating
Bet Now
BetOnline.ag is currently the only sportsbook we promote that accepts Ethereum, so I will be using them in our step by step Ethereum deposit guide below.
Ethereum Deposit Guide
In this step by step guide, I will take you through all of the steps you will need to take to deposit Ethereum at BetOnline.ag. I will be assuming you are starting out with no Ethereum, so you can jump ahead if necessary.
Open An Ethereum Wallet
The first thing you should do is to open an Ethereum wallet. This is where you will store your Ethereum when it's not in a sportsbook or an exchange. There are several options for Ethereum wallets, but the most popular is MyEtherWallet.com. Always make sure you are actually at "MyEtherWallet.com" before using the site because there are several phishing scams out there trying to steal your keys.
For more information on setting up your MyEtherWallet account, click here. There you will find a step by step guide on how to use MyEtherWallet that is far more in depth than I could provide.
Buy Ethereum
Now that you have somewhere to store your Ethereum, you can go ahead and purchase some. You can search online for to find an exchange where you can buy bitcoin.
After buying the Ethereum, I suggest transferring it to your personal Ethereum wallet before making your BetOnline deposit.
Deposit Ethereum
Now that you have your Ethereum in your personal wallet you are able to deposit it at BetOnline.ag.
Click on the green 'Deposit' button in the top right corner of the BetOnline screen.  Then select 'View More Deposit Options' under the Bitcoin and Credit Card deposit buttons to show all of the possible deposit methods available.  Select 'Cryptocurrency' then 'Ethereum'.
Choose your deposit amount, enter your promo code for the deposit and select 'Deposit Now'. This will bring up the Ethereum deposit page. Here's a screenshot of what to expect: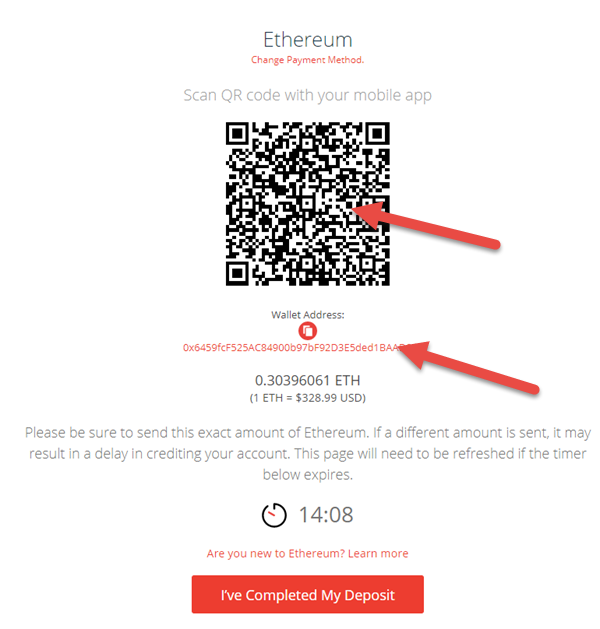 Next you should either scan the QR code or copy the wallet address to know where to send your payment. Then use your Ethereum wallet to send the exact amount of Ethereum outlined on the page to that address. After you've done this select 'I've Completed My Deposit' and you're all done! Your funds should show up in your BetOnline account within a few minutes.
Withdrawals
Withdrawal via Ethereum are just as easy as deposits. Simply select 'Withdrawal' from the Cashier and select 'Ethereum'. You will then be asked to enter your Ethereum wallet address for payment and the amount you wish to cash out. The funds will show up in your Ethereum wallet within minutes.