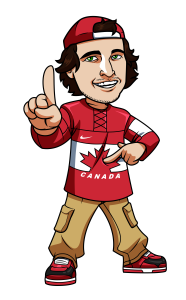 Bitcoin has proven over the past few years that it is a safe, secure digital currency that is here to stay.  Bodog has taken notice and I expect we will continue to see more online betting sites add bitcoin as a deposit method in the near future.
If you're on this page you probably already understand bitcoin, but for those who don't here's a quick summary. Bitcoin is a decentralized (not controlled by any government or instituation) digital currency that is created and held electronically. The advantages of bitcoin are that it can be transferred quickly and securely from one bitcoin wallet to another.
Sportsbooks Accepting Bitcoin Deposits
Sportsbook
Features
Bonus
Rating
Bet Now
1

Exclusive to Canadians
Easy to use deposit options including Interac and Bitcoin
Wide variety of betting lines
Bodog.eu is currently the only one of our top three sportsbooks that accepts bitcoin as a payment option.  From this point forward I will be giving you the step by step guide to deposit via bitcoin at Bodog.
Bitcoin Deposit Guide
There are a few steps that you have to take before making your bitcoin deposit at Bodog.  I'm going to start right at the beginning for those of you who don't yet have a bitcoin wallet.  If you do already have a wallet then go ahead and skip down a few steps.
Open a Bitcoin Wallet
The first thing you will need to do is open a bitcoin wallet account which will be used for housing your bitcoin currency. There are a few options here. You can store your wallet in a special program on your computer, download your coins offline to keep them extremely secure, or keep them on the web at one of the many bitcoin wallet websites. Click here for a more in depth page on various wallet options from Bitcoin.org.
Buy Bitcoins
Now that you have a wallet to store your bitcoins you will need to buy some with your Canadian dollars.  The easiest way to do this is through a Bitcoin exchange.  Canadians can buy bitcoin at ShakePay, Kraken, and various other exchanges.
Deposit Bitcoins
Now that you have Bitcoins in your personal Bitcoin wallet you are able to deposit them at Bodog.
Click on your Bodog balance amount in the top right corner of the Bodog screen and select the 'Deposit' button.  Select the Bitcoin deposit option. The BTC rate will then be locked in and you will have 15 minutes to send your bitcoin to the address provided by Bodog. However many bitcoin you send will be converted to Canadian dollars at the rate provided and show up in your Bodog account after confirmation.
After completing the transfer through your own Bitcoin wallet you can click 'Done' at the bottom of the Bodog screen.  This will alert Bodog that you've made a deposit via Bitcoin.  Once they receive your transfer your account balance will be updated.
Withdrawals
Withdrawals via Bitcoin are just as easy as deposits.  Simply select the 'Withdrawal' button from your Dashboard and select Bitcoin from the drop down menu.
You will then have to enter your Bitcoin wallet address and the amount you would like to withdraw.
Your withdrawal with then be marked as requested and the transfer should occur in the next few minutes.
FAQ
Bitcoin is still a relatively new type of currency that is hard for some people to wrap their heads around. Here's a few of the more common questions I get regarding Bitcoin deposits.
What Is Bitcoin?
In the simplest of terms Bitcoin is a digital currency that you can think of as electronic cash. It's a decentralized currency that is not controlled by any government. For a lot more detail I'll refer you to the Bitcoin Wikipedia page.
Are There Transaction Fees?
Bodog doesn't charge any transaction fees, but you should always keep an eye on the Bitcoin exchange rate because the withdrawal exchange may be lower than the exchange rate was when you deposited, which could lead to you ending up with less Bitcoins from the same dollar value.
What Are The Advantages Of Bitcoin?
The advantage of depositing via Bitcoin is that they are extremely secure and instant. You also don't have to enter any of your personal bank or credit card information online, which I know is a deal breaker for some would-be sports bettors.
Bodog also does not charge a fee for Bitcoin withdrawals and you are able to request a withdrawal every three days, as opposed to every seven days with other methods.