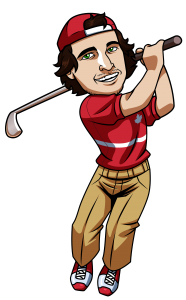 First of all I want to draw your attention to my pick 6 article for the outright winner of the Arnold Palmer Invitational.  There's actually less overlap between the articles this week than normal because DraftKings pricing got a little wacky this week once again, so the best plays at certain price points don't necessarily correlate with the best play from a betting perspective.
The Arnold Palmer Invitational has a few big names players at the top of the price list, but there's also a ton of value near the bottom that you should keep your eyes open for.  This week DraftKings.com is running a big $600,000 contest with $100K to first place for just a $4 entry fee.  There is also the $33 Dog Leg available, but it is down to $400,000 this week.
Over $10,000
I will definitely have some exposure to Rory, but my main guy in this price range will be Henrik Stenson.  He had a great opening round last week at Valspar and although he slowed down in the final few rounds he still had a solid overall week finishing 7th.  He's now finished top 10 in his last 3 completed tournaments and he also has a ridiculously good course history here with a 3rd, 2nd, 5th, 8th and 15th place finish in his last 5 trips to Bay Hill.
Stenson is an extremely safe play and although I'm sure he will be highly owned I will still be overweight on him because of all the value I see at the bottom.
Target: Henrik Stenson $11,500
$9000 Range
Just Rose will be a very popular play at $9500 and rightfully so, but my focus in this range will be with Brandt Snedeker at the bottom of the $9000 range.  Snedeker can go very low when the putter gets hot and that is key for a tournament where I expect the winning score to be close to -20.  Snedeker's form is solid with 3 top 10's in his last 4 events with the only blemish being a missed cut at the Genesis Open.
Snedeker is 24th in birdie or better %, 27th in strokes gained around the green and 55th in tee to green.  He has the game to do well on this course and his history here is decent with 3 top 20's in the past 8 years.  His course history doesn't blow us away like Stenson's or Rose's does and I think this will keep Snedeker's ownership at a reasonable level, which is fine by me this week.
Target: Brandt Snedeker $9000
$8000 Range
I'm not crazy about this $8000 range and to be honest I may avoid it completely when building my lineups.  That said, Thomas Pieters is a very intriguing play at $8700.  He has the best odds to win the tournament in this range and he has the ability to go low with the 11th best birdie or better percentage on tour.  He's also finished in the top 5 in two of his last three events, which shows he can rack up the DK points in the right conditions.
I think he will be a fairly popular play, but he has the ability to be atop the leaderboard come Sunday.
Target: Thomas Pieters $8700
$7000 Range
The $7000 range is chock full of great plays.  Personally, I will be looking down the list at Wesley Bryan for just $7100.  Bryan's odds to win the tournament are around 50/1, so based on that alone this is a bit time miss on the pricing by DraftKings.  With his 7th place finish at Valspar, Bryan has now finished in the top 10 in his last 3 events on Tour.  He doesn't have any course history, which is concerning, but with that recent form I don't know how you can really fade Bryan at this price point.
Target: Wesley Bryan $7100
$6000 Range
This is some more ridiculous pricing.  Charles Howell dropped down from $9400 last week to just $6900 this week.  And it's not even like Howell was low owned at the $9400 price point last week.  Howell has played this tournament each of the last 8 seasons and made the cut every time.  He hasn't broken into the top 20, but at this price point for a guy very likely to make the cut and a guy who can make a lot of birdies this is close to a plug and play this week with Charles Howell.
He will definitely be very high owned, but I don't think that warrants staying away from the guy who is playing well and is very familiar with the course.
Target: Charles Howell $6900
Tagged With : DraftKings golf • Draftkings tagets