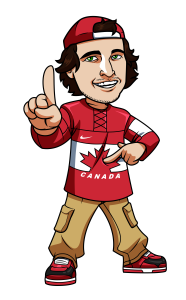 The Woodbine Mile (event details) is set to take place this Saturday evening at Woodbine Racetrack in Toronto.  This is a huge race this year with a lot on the line.  Of course there is the $800,000 purse, but you also have to factor in the fact that the Woodbine Mile is part of the Breeders' Cup Challenge Series and the tagline for the race is "Win and You're In".  So needless to say there is a lot of pressure on these horses to perform in order to claim the $480K first prize and a berth in the Breeders' Cup Mile in November.
The bookies have Deauville as the 5-2 favourite heading into Saturday, but there's a lot of quality horses in this large 12 horse field so it will be exciting to see what happens come Saturday.
The Woodbine Mile will be broadcast this year on TSN2 with and hour of coverage for the race between 6 and 7pm.  The post time is at 6:34pm, so be sure to tune in no later than 6:30pm this Saturday to catch the race.
Top Woodbine Mile Betting Site in Canada
2017 Woodbine Mile Morning Line Odds
Here are the morning line odds for the Woodbine Mile (from the Woodine website).  I should mention that the odds for horse racing are not fixed, which means they will change throughout race day as bets come in the various horses in the race.  Check out our parimutuel betting page for more information about how the betting works in horse racing.
Deauville 5/2
World Approval 7/2
Lancaster Bomber 9/2
Dutch Connection 6/1
Mondialiste 8/1
Tower of Texas 12/1
Conquest Panthera 12/1
Long On Value 15/1
Dragon Bay 20/1
Arod 20/1
Glenville Gardens 20/1
Best Bard 50/1
As you can see Deauville is the clear favourite heading into the race, but World Approval, Lancaster Bomber, Dutch Connection and Mondialiste are all being given a legitimate shot at winning the race, while Conquest Panthera and Tower of Texas also have reasonably short odds.
Deauville is the deserving favourite with the horse being very consistent this year finishing in the top 3 in each of hist last 6 races.  That said, Deauville only has one win in that 6 race span and I'm concerned he will add another top 3 finish without a race in Toronto this weekend.  My favourite play is World Approval at 4/1 odds.  He won a G1 mile race in the Fourstardave Handicap last month and has won two of his last three races.  This short race should be perfect for World Approval.
How To Bet On 2017 Woodbine Mile
If you are new to betting on the horses online, here's a few quick steps you'll need to complete in order to place your bets on the Woodbine Mile.
Sports Interaction is our #1 rated sportsbook for Canadian bettors, and that includes for betting on horse races.  The racebook is extremely easy to navigate and understand, which allows you to place wagers quickly and confidently.  Sports Interaction also only accepts Canadian residents, which allows them to fully cater the sports betting experience to Canadian bettors.
If you sign up through one of our links you will receive a 100% up to $200 bonus on your first deposit.
Click here to visit SportsInteraction.com and open an account.
#2. Deposit
Now that you have an account it's time to make your first deposit.  SIA accepts a wide variety of deposits from Canadians and you can check out our breakdown of a few of them here.
I should note that it's rare for Sports Interaction to offer reload bonuses, so I suggest you take full advantage of the 100% up to $200 bonus on your first deposit.
#3. Place Your Bets
Select 'Racebook' from the top navigation bar on the Sports Interaction website.  Next, select 'Canadian Thoroughbred' followed by 'Woodbine'.  Next up you should select the race that has a post time of 6:39 for the Woodbine Mile.
Here's a screenshot showing where you can find the Woodbine racetrack in the Sports Interaction racebook.
Once at the Woodbine Mile race go ahead and place your wagers.  Check out our horse race betting section for more information about the various bets you can make on this race.  We also have a dedicated Woodbine Mile page that gives information about the race.
Ready to bet?  Click here to visit SportsInteraction.com.
Tagged With : horse racing betting • Woodbine Betting • Woodbine Mile • Woodbine Racetrack