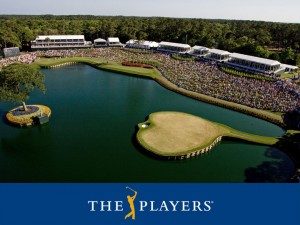 One of the favorite stops of the season is finally here, THE PLAYERS. This annual event is steeped in tradition as it's held at the same course (TPC Sawgrass) year after year. The Pete Dye design is truly special as it combines the need for players to place themselves strategically hole after hole. It's an interesting, quirky course as it doesn't really favor the long hitters which is something we don't see that often nowadays.
Last year's edition of the players saw an incredible charge by Rickie Fowler as he played his last 6 holes in 6 under par which found him in a 3-way playoff with the likes of Sergio Garcia and Kevin Kisner. Rickie was able to birdie #17 two consecutive times in the playoff (third birdie of the day on that hole) and fend off Kisner on the second hole of sudden death.
TPC Sawgrass calls for an incredibly well rounded game so we're going to place a lot of emphasis on Strokes Gained: Tee-to-Green this week. Secondary to that, we'll be keying in on Par 5 Scoring as the four Par 5s here present themselves as very good scoring opportunities which allow golfers to gain a good edge on the field if they're navigated properly. Last year, we saw Fowler eagle the Par 5 sixteenth hole which really helped push him towards the top of the leaderboard. I expect to see a similar scenario play out this year in which the 16th hole will be taken advantage of and prove pivotal for the eventual winner. Next, we'll key in on putters. Putting is the biggest key to success week in and week out on TOUR so those who excel will be the ones we target.
Because TPC Sawgrass can be played so many different ways, I don't think it's really necessary to focus on any predefined distance ranges regardless of what the historical shot percentage data states. We've seen people win this tournament in a variety of different ways and it always comes down to those who have found the majority of their greens and putted the ball wonderfully throughout the week. A pretty simple recipe for success. So, without further ado, let's take a look at our targets.
High End Targets ($10,000+)
• Rory McIlroy
Rory's success here in recent years cannot be ignored this week. The world #3 has been in fine form of late and I expect him to continue his roll here at Sawgrass. As one of the purest ball strikers on TOUR, it's hardly a wonder as to why Rors is continually near the tops of the leaderboard and owns a top 3 world ranking:
• SG-T2G: +3.561
• SGP: +1.190
• P5: -0.58
• Jordan Spieth
We could be getting Spieth at a very low ownership relative to his talent level this week and for that reason I'm extremely high on him. A lot of uber talented golfers are priced below Spieth this week and he actually missed the cut here last year. Any time this opportunity presents itself I think we need to jump on board. The young Texan placed T4 here in 2014 and actually finished 2nd at the Junior PLAYERS back in the day so it's not as though he's uncomfortable with the course:
• SG-T2G: +3.211
• SGP: +0.117
• P5: -0.32
• Adam Scott
Scotty Too Hotty rolls into TPC with some great history on his side along with his superb ball striking skills which vaults him near the top of available players. Although $10k is a large chunk of your allotted salary, I think it's wise to be overweight if anything on Scott as he's simply too good and too proven here to cost just $10k:
• SG-T2G: +8.213
• SGP: +1.681
• P5: -0.50
Mid Range Targets ($9,900 – $8,000)
• Hideki Matsuyama
Hideki is another player who falls under our theme of incredible ball strikers. If Mats can get his putter rolling he should have no trouble navigating this track as he's a true plotter who positions himself so well around courses. If everything goes as planned, we should see Mats near the top of the leaderboard come Sunday afternoon. I also think we'll see his ownership a little suppressed as I expect the masses to pay up the extra $300 and attack Scott:
• SG-T2G: +4.727
• SGP: -0.701
• P5: -0.44
• Zach Johnson
Simply put, ZJ is way too talented and fits this course way too well to cost only $8.3k this week. He's an absolute steal this week and should be the first player you plug into your cash game lineups. Go 100% on him and not a bit less in cash games. A rock solid player on a comfortable track is a wonderful recipe for success:
• SG-T2G: +2.154
• SGP: +0.283
• P5: -0.29
• Billy Horschel
Billy Ho is a great feeler pick this week as hes been trending in the right direction for a while now and his overall game is very well suited to TPC Sawgrass. Since ending his relationship with PING and moving to PXG, the American has seen a tremendous uptick in his productivity in every key category. Also known for being one of the best putters on TOUR, I think Billy is going to find himself in the mix this week:
• SG-T2G: +2.305
• SGP: +0.733
• P5: -0.31
• Matt Kuchar
Kuuuuuuch. This guy is a true Pete Dye course specialist. Kuch has teed it up 34 times throughout his career on Pete Dye designed venues and holds a cuts made clip of 85.3% which is truly incredible. His average finish position is 37th which at this price would be medium-well but I think he'll push further up the board than that. A winner here in 2012, fire Kuch into your lineups with confidence:
• SG-T2G: +4.572
• SGP: -0.045
• P5: -0.29
Low End Targets (<$8,000)
• Charley Hoffman
Charley has been the hottest golfer on the planet of late and hasn't really received the proper attention for it. Hoffman holds a very steady all around game and has performed fairly here in the past having made 4 of his last 5 cuts here. Not quite the line we saw for him at the Valero but a favorable one at a good price nonetheless. I will be extremely overweight on Charley this week given his price:
• SG-T2G: +3.143
• SGP: +1.1634
• P5: -0.30
• Kevin Na
Kevy Kev seems to perform well here in somewhat random spots and this could be one of those spots. He hasn't played since the RBC Heritage and hopefully that suppresses his ownership as bit as people tend to focus heavily on recent form. Having said that, course history typically seems to be the #1 method of decision making in PGA DFS and Na's cheap price couple with good history could be enough to flatten his ownership but that's something we can't really be sure of until tomorrow morning!:
• SG-T2G: +2.111
• SGP: +0.179
• P5: -0.16
• Russel Knox
Russel is a GIR master and that's something I think will really favor him this week. He obtains a wonderful tee-to-green game, putts near the middle of the pack and does the same in terms of Par 5 Scoring. I have a really good feeling about Russ this week as I think he can get himself into contention. The Jacksonville University product is going to show us what he's all about:
• SG-T2G: +4.660
• SGP: +0.221
• P5: -0.29
• Byeong-Hun An
Aside from missing the cut last week, An has been in wonderful form in his limited PGA TOUR starts. The nice thing about him is that he makes a ton of birdies which is extremely valuable on DK so with his lower than normal price this week I think he makes for a very strong play as his birdie upside is tremendous. He's actually rolling with a 21.7% BoB clip which is ranked 31st over the last 12 events. If An controls himself properly, he could be a cheap, pivotal addition to your squad(s):
• SG-T2G: +0.012
• SGP: -1.021
• P5: -0.38
• David Lingmerth
Everyone's attention is going to be on another Swede this tournament in the form of Henrik Stenson, but Lingmerth has actually been trending in the right direction over the course of the last few weeks after he managed to go on a SHARP decline after his playoff loss to Dipner at the CareerBuilder in January. As we all know, golf is a game of form so grabbing a proven winner who's displaying good form at a low price is an opportunity too good to pass up:
• SG-T2G: +1.896
• SGP: -1.913
• P5: -0.19
• Kiradech Aphibarnrat
The reason I'm on Kiradech this week is that he's simply far too good to be priced as low as he is. We're talking about the 42nd ranked golfer in the world being priced all the way down at $6.5k. Although his T2G game can be a little shaky at times, I think it's a worthwhile spot to take a few shots with Kiradech. The Barnrat is an incredible putter and he can certainly hang around this weekend if he sorts his spotty ball striking out:
• SG-T2G: -5.022
• SGP: +7.159
• P5: -0.50
All stats referenced in this article are a product of FGM:
Tagged With : DFS Golf • DraftKings • Golf • PGA Tour • PLAYERS Championship • The Players