CFL Week 16 Betting Picks 2017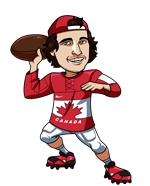 It was another rough 1-3 week for me in week 15 of the CFL season.  The Riders were only able to win their game by 1 in Ottawa after falling behind early, so they weren't able to beat the 3 point spread.  The toughest loss to swallow was the Ti-Cats not beating the +3 point spread against the Argos after leading 35-21 in the fourth quarter.  It was a massive comeback by the Argos to tie the game and then they went on to beat the spread in OT with at touchdown.  My other miss of the week was hoping that Montreal would stay within 17.5 points against the Stamps.  Luckily Winnipeg got the win in the final game of the week to at least get me on the board with a win.  I'm now just 30-27 on the season and I really need some big wins in these final weeks of the season.
The pick'em contest will once again be up at our Facebook page, so check that our for a shot at $25.
I'll be using SportsInteraction.com for my CFL picks all season long.  They're our top rated sportsbook and they are an in-game sponsor of the Hamilton Tiger-Cats this season, which shows their commitment to the CFL.  You can check out our full SIA review here.
| | Sportsbook | Bonus | Review | Visit |
| --- | --- | --- | --- | --- |
| 1 | | 100% up to $200 | Review | Visit |
Hamilton Tiger-Cats @ Winnipeg Blue Bombers
Hamilton +13.5
Winnipeg -13.5
The Ti-Cats lost a tough game at home to the Argos this past weekend after leading 35-21 in the fourth quarter.  It will be hard for the Ti-Cats to get up for this game on a short week after losing that game that they really needed to win in the fashion that they did.  That said, I still believe that this Ti-Cats team is better than the oddsmakers are giving them credit for at this point in the season.  Hamilton has now gone 3-2 since their week 10 bye and the two losses were very close games against the Riders and Argos.  The offense is still clicking fairly well and although they are up against a tough Bombers team that is riding a three game winning streak, I still think the Ti-Cats have a good shot to at least keep this game close.
Play: Tiger-Cats +13.5
Saskatchewan Roughriders @ Toronto Argonauts
Saskatchewan +1.5
Toronto -1.5
The Argos showed a lot of heart coming back against the Ti-Cats last week, but heart alone won't work as well against the better teams in this league, which the Roughriders have proven they are this year.  I still believe the Argos to be overrated this year and even though they are riding a 3 game winning streak, I still consider them to be the underdogs in this match-up.
I like the Roughriders straight up, so I'll gladly take the 1.5 points in this spot.
Play: Roughriders +1.5
Ottawa Redblacks @ BC Lions
Ottawa +4.5
BC -4.5
Ottawa is now 1-3 without Trevor Harris in the lineup, but good news for the Redblacks because Harris is expected to play this week.  Ottawa put up a valiant effort against a hot Riders team this past week, but could not hold on down the stretch.  They now now have a long week to get ready for the Lions who are coming off a bye week.
The bye week should help the Lions, but let's not forget that they are 1-5 over their past 6 games and that lone win was at home against the lowly Alouettes.
I still think this Ottawa team is better than their record indicates and big win this week in BC will go far towards helping them challenge the Argos for top spot in the East.
Play: Redblacks +4.5
Edmonton Eskimos @ Montreal Alouettes
Edmonton -7
Montreal +7
Edmonton lost at home to the Bombers by a score of 28-19 this past week and that loss now brings the Eskies current streak to 6 straight losses after starting the season with 7 wins.
The Alouettes have looked absolutely awful of late, so they may be just what the doctor ordered for the slumping Eskimos, but I'm not going to be that quick to right off the Alouettes at home this week.  Montreal is 3-4 at home this year compared to 0-7 on the road and the team should be eager to perform after their embarrassing 59-11 loss this past week in Calgary.
I've taken the Alouettes a few times these past weeks and they continue to burn me, but I do think this is a good spot against an Eskimos team that also has nothing going for them at the moment.
Play: Alouettes +7