2018 NHL Western Conference Round 1 Series Picks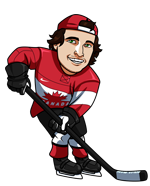 My favourite series pick for round one of the 2018 NHL Playoffs is from the Western Conference.  You can check out my Eastern Conference picks here.
I'll be using the best odds available for the team I'm taking from any of our recommended sportsbooks for Canadian bettors.
**Make sure you enter our NHL Playoffs bracket contest if you haven't already done so.  There's $750 up for grabs and it's free to enter.
***Special Offer for Canadians***
I've been able to work out a deal with Sports Interaction, our top rated betting site, where new sign ups to SportsInteraction.com receive a risk free $20 bet on any NHL Playoff game.  This is in addition to the 100% up to $200 bonus I am normally able to offer to new SIA sign ups.  All the details can be found here.
Nashville Predators (1) vs Colorado Avalanche (WC2)
Nashville 1.20
Avalanche 4.95
I really like the Preds heading into these playoffs.  They have all of the tools that brought them to the finals last year, they're healthy and they've added Kyle Turris to give them some of the best depth at center in the league, to go along with their star studded back end.
I fully expect the Preds to win this series and march towards the Stanley Cup, but I cannot bet them in this series with the Avs at odds of just 1.20.  This is the NHL and the better team does not always win.  I think just based on the odds this is a dog or pass situation, so I'm going to choose to pass on making a play on this series.
Play: No Play – Predators Are My Pick
Winnipeg Jets (2) vs Minnesota Wild (3)
Winnipeg 1.47
Minnesota 2.80
The Jets are firing on all cylinders heading into the playoffs.  They're healthy and won 11 of their final 12 games to close out the season.  The Jets have some of the most talented forwards in the league and the depth to go along with it.  I believe the loss of Ryan Suter to a broken ankle will make it extremely difficult for the Wild to contain the high powered offense of Winnipeg.
I'm expecting the Jets to be able to score in bunches in this series and the Wild simply won't be able to keep up.
Play: Jets 1.47 @ Bet365.com ***These odds are from April 10th and are subject to change***
Vegas Golden Knights (1) vs LA Kings (WC1)
Vegas 1.83
Los Angeles 2.20
I really like the Kings as underdogs in this spot.  The Kings are built as a playoff team and I expect Doughty and company to at least be able to slow down the fire power of the top two lines of the Knights.  Anze Kopitar is having a massive season and the addition of Jeff Carter returning from injury late in the season really helped this team down the stretch.
The Kings are my dark horse team to win the Cup this year and that starts with a win over the expansion Golden Knights.  As good as Vegas looked in the regular season, I do think that they overachieved and a portion of their home success was attributed to other teams Vegas hangover, especially early in the season.
The Golden Knights have a solid forward corps, but I do not think their defense are capable of performing at a high level in playoff hockey and I think this will be exposed by the cycling style of the Kings.
Play: Kings 2.20 @ Bodog.eu
Anaheim Ducks (2) vs San Jose Sharks (3)
Anaheim 1.80
San Jose 2.10
This is a series I think could really go either way.  I'm going to be taking the Sharks based on the odds value and the fact that Cam Fowler, who is a big part of the Ducks defense, will be sidelined for the series with a shoulder injury.
Joe Thornton is also on the sidelines for the Sharks, but I don't think he is as big of a factor as Fowler, and I also think that the addition of Evander Kane should pay dividends for the Sharks in this series.
Like I said above, I'm not confident in my pick in this series, but I think the sharper money is on the Sharks.
Play: Sharks 2.10 @ Bodog.eu